Healthcare & Life Sciences

Design Technology for Active Ingredient Pharmaceutical Plants
Design Technology for Active Ingredient Pharmaceutical Plants
Total Engineering: From Basic Concept to Qualifications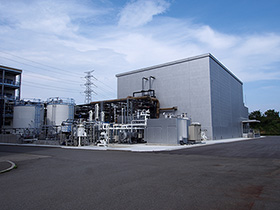 In recent years, diversification and complexity of active ingredient pharmaceutical facilities have progressed. Drug development subjects range from small molecules to large molecules, including medium molecules (synthetic peptides, nucleic acids) and antibody-drug conjugates (ADC) which are now the subject of much attention. JGC can offer consistent services from basic concepts to qualification toward realization of complicated pharmaceutical active ingredient facilities by making full use of our abundant engineering technology that we have cultivated until now.
Chemical Synthetic Active Ingredient Plants
JGC has built many chemical synthetic active ingredient plants. Among them, in response to the growing demand for containment, we have played a leading role including developing the concept of equipment design using risk assessment. We will continue our endeavor to constantly pave the way to a new era, including continuous manufacturing.
Bio-bulk plants such as for antibody drugs are indispensable for handling multi-product manufacturing, automatic cleaning, and automatic sterilization, and JGC makes use of advanced plant design, piping design, and automatic sequence design technology. In addition, regarding culture technology, we are also conducting our own proprietary technology development, such as development of the VerSus Reactor® that is gentle to cells and support for continuous culture. Moreover, we are actively supporting all single-use plants.

For bio plants that require a wide variety of technologies, we have abundant construction experience and can build optimal plants that meet the needs of our customers.
CFD Simulation Design Technology for Agitated Vessels
JGC designs optimal shaped agitated vessels by leveraging Computational Fluid Dynamics (CFD) technology and carrying out various agitation simulations and heat transfer simulations including for single-use products.
Uni-Heat Medium System for Temperature Control (Flexthermo®)
Utilizing "Flexthermo® (Patented)," a temperature control system that uses two types of uni-heat mediums, JGC can achieve "highly-precise temperature control" that controls a wide temperature range with uni-heat mediums.
Operation Range for Heating Media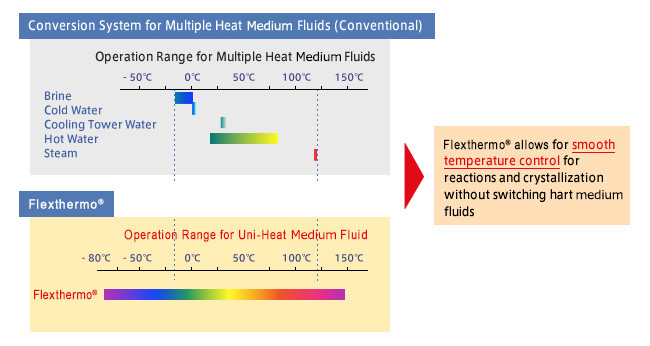 Single Heat Transfer System for Temperature Control - Advantages and Flow Diagram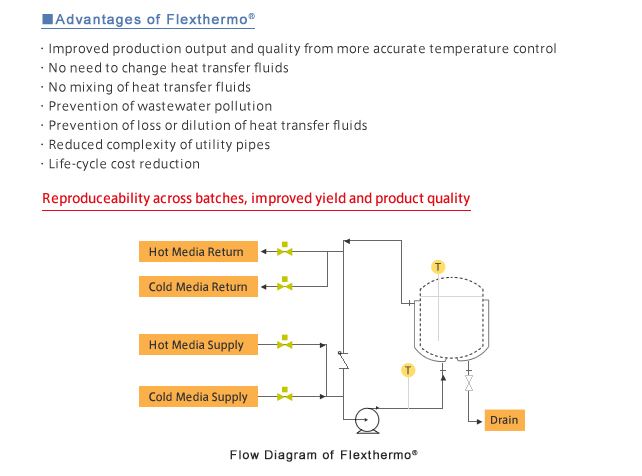 Silicone Oil for Flexthermo®

Advanced Temperature Control
Using advanced temperature control technology including Model Predictive Control, JGC can achieve highly precise (±0.1 ℃) temperature control. It is also possible to realize a program control that linearly reduces the temperature in the tank as required, such as crystallization tanks.
Model Predictive Control System Configuration Diagram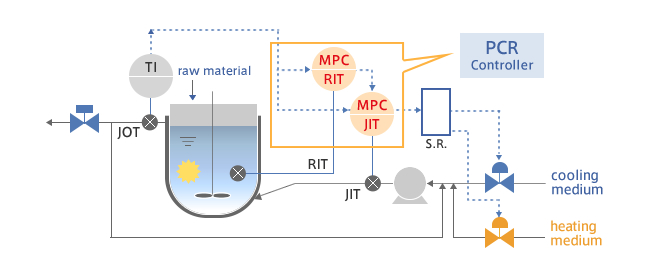 Healthcare & Life Sciences