Basic Policies
Individual JGC Group policies are linked below.
Positioning of Policies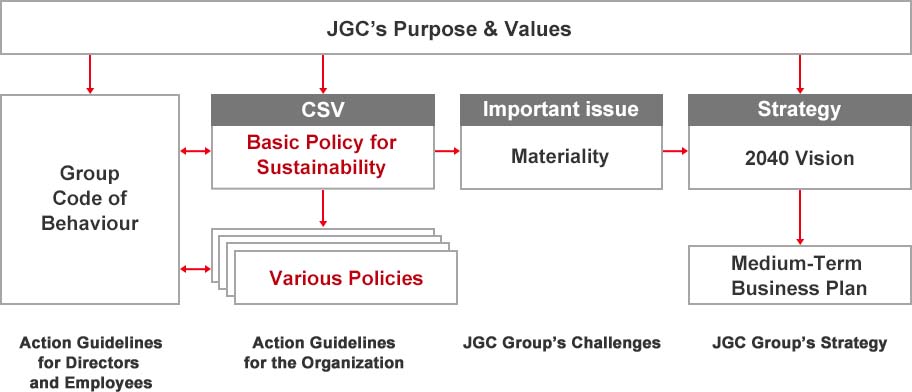 Click on your policy of interest for details.
Basic Policy for Sustainability
The JGC Group will endeavor centered on its "Enhancing planetary health" as its Purpose, to sustainably increase its corporate value through creation of social values.
To realize the above, it will actively pursue sustainability in the areas of environment, society, governance, quality, safety, and health.
Basic Policy for Human Rights & Development
JGC Group recognizes that respecting the human rights of all people affected by our global business is a fundamental principle of our business. Our Code of Business Conduct prohibits child labour, forced labour and all forms of discrimination, which are issues we take seriously. Taking into consideration the growing awareness of human rights and the growing interest and demand for social responsibility, we now further promote our efforts and fulfill our responsibility as stated in the following policy ("Policy").
1.

We are committed to respecting human rights articulated in international human rights principles, including the International Bill of Human Rights*1 and ILO declaration on Fundamental Principles and Rights at Work*2.

*1

The International Bill of Human Rights consists of the Universal Declaration of Human Rights, the International Covenant on Civil and Political Rights and the International Covenant on Economic, Social and Cultural Rights.

*2

The Declaration commits Member States to respect, promote and realize principles and rights in the following four categories: freedom of association and the effective recognition of the right to collective bargaining, the elimination of forced or compulsory labour, the abolition of child labour and the elimination of discrimination in respect of employment and occupation.

2.

Scope of Application


The Policy applies to all JGC Group personnel including directors, officers, employees, and contract employees. We also encourage all our business partners in our supply chain to understand this Policy and respect human rights.

3.

Responsibility to respect human rights


We are committed to fulfilling our responsibility to respect human rights by establishing human rights due diligence measures to identify, prevent and mitigate any negative impact on human rights.
We also encourage our business partners to take measures to prevent causing any negative impact on human rights and to take appropriate actions when any negative impact is caused.

4.

Our commitment to conduct human rights due diligence


We are committed to conducting human rights due diligence to identify, prevent and mitigate any negative impact on human rights relating to our business activities. We will continuously review our due diligence measures and their outcome to effectively address any negative impact on human right.

5.

Compliance with applicable laws


We will comply with laws and regulations applicable in each country or region where we conduct business activities. If there is any conflict between internationally recognized human rights and the laws and regulations of the country or region concerned, we will seek ways to respect internationally recognized human rights to the maximum extent possible.

6.

Education


We will educate our personnel regarding respect for human rights and for better understanding of this Policy.

7.

Remedy


If it becomes apparent that we have caused or contributed to, or are directly linked with, any negative impact on human rights, we will strive to remedy the situation through appropriate procedures, and we will make efforts to establish and operate an effective remedy system.

8.

Dialogue


In the course of our efforts to fulfill our responsibilities stated in this Policy, we will use independent external human rights experts and have a sincere dialogue with those affected by our business activities.

9.

Disclosure


We will regularly disclose our human rights activities and their progress on our website and by other means.
Health, Safety and Environment (HSE) Corporate Policy
JGC's corporate management is committed to providing a safe and healthful place of work throughout all of JGC's facilities, offices and work sites and to making every effort towards eliminating or minimizing any environmentally adverse effects of JGC's operations.
Thus, JGC will, in all of its operations and at all locations where work is being carried out under its control, promote the highest standards in health, safety, and environmental preservation and protection by establishing, implementing and maintaining an HSE Management System that will include such elements as targets and standards for HSE performance, HSE education programs and motivational incentives, and assessments and accountability for achievement of those targets and standards.
To meet this commitment, JGC in carrying out its operations, will in all cases, abide by the following principles:
Provide plants that meet the highest standards for safety and operation, and place the minimum burden on the environment.
Place the highest priority on the health and safety of personnel and on the preservation and protection of the environment.
Plan and perform work in accordance with the HSE Management System.
Hold employees, including those of Vendors and Subcontractors, responsible for their own HSE and that of their colleagues.
Ensure that personnel are trained in HSE.
Review, monitor and measure HSE performance for continual improvement.
Provide full cooperation to clients, statutory authorities and local communities.
This policy shall be posted at all locations under JGC control, and all those engaged in work for JGC or present at those locations shall be aware of its contents and shall commit themselves to its fullest implementation.
JGC JAPAN CORPORATION places the highest priority on maintaining the safety and good health of all the personnel participating in or affected by JGC's operations and preventing property losses as JGC serves its clients, industry and the world community.
In the fulfillment of the above-stated policy, JGC hereby declares:
First JGC's management, employees and project employees are committed to continuing efforts for zero accidents, injuries and property losses.
Second JGC's management encourages safety and health awareness among its employees on an ongoing basis.
Third Regardless of the location, nature and type as well as size of projects, all applicable safety and health rules shall be strictly applied on all of JGC's projects.
JGC JAPAN CORPORATION ensures that this policy, related directives and procedures are thoroughly communicated and implemented throughout the corporation and subcontractors engaged in JGC's projects.
In May 2021, the JGC Group has redefined its corporate purpose, serving as the reason for the Group's existence - "Enhancing planetary health" - contributing to a healthy future for people and the Earth.
This corporate purpose has guided us in establishing the "2040 Vision", our long-term management vision, and we will be transforming into a corporate group that strives to contribute to enhancing planetary health.
Under the "2040 Vision" plan, we have positioned 2021 to 2025 as the "five years of challenge", and established a new medium-term business plan - "Building a Sustainable Planetary Infrastructure (BPSP2025) ".
JGC Holdings and JGC Corporation establish the following Quality Policy to implement challenges and transformation based on the New Medium-Term Business Plan.
1.

We shall provide the quality that fulfills all of the applicable requirements, by utilizing our wide-ranging technological expertise and project execution skills built up through years of experience and through the promotion of DX (digital transformation) .

2.

We shall fully comply with the agreed requirements with our customers, and shall aim to establish ourselves as an organization that will prompt customers to view us as their first-choice partner when they are faced with new or advanced technical challenges in an ever-changing business environment.

3.

We shall pursue the realization of an evolving organization that promises continual improvement and gives rise to innovation and improvement, through combining a strong sense of individual responsibility and creativity, along with a will to go beyond barriers between departments and among individuals.

4.

We shall always be conscious of enhancing Planetary Health. In face of various social issues, we will become a corporate group that is required by society by synchronizing the businesses of the JGC Group with solving such social issues.
As a global engineering company creating a more prosperous future for people and the earth, JGC Holdings Corporation, JGC Corporation and JGC Japan Corporation establish the following environmental policies to contribute to the protection of the earth's environment.
1.

To establish, maintain and work through regular review for the continuous improvement of an Environmental Management System that clearly states and provides for the implementation of environmental targets for office operations and project execution which contribute to the prevention of environmental pollution.

2.

To use our technical expertise to provide our clients with access to services that contribute to the protection of the earth's environment.

3.

To fully conform with environmental laws and regulations established for the protection of the environment and with related agreements reached with clients and stakeholders.

4.

To minimize the burden on the environment from office operations by reducing waste, promoting reuse and recycling, limiting energy consumption, and reducing greenhouse gas emissions.

5.

To strictly observe the following principles in carrying out the engineering, procurement and construction work for our projects.

In our design work for projects we shall strive to minimize adverse impacts on the environment through measures that include limiting the consumption of resources and energy, working to prevent pollution of the air, water and soil, and reducing greenhouse gas emissions.
In procurement, we shall encourage vendors that show a positive attitude toward the use of environmentally friendly manufacturing practices including reducing greenhouse gas emissions.
In construction, we shall minimize the use of resources and energy, the production of waste, promote recycling, strive to protect the environment through preventing the pollution of the air, water and soil, and reducing greenhouse gas emissions.
1.

Policy Statement

JGC Holdings Corporation (hereinafter "JGC Holdings") strives to conduct fair, equitable, and appropriate information disclosure. JGC Holdings shall continue to engage in constructive communication with stakeholders, and incorporate the opinions from the stakeholders onto its management policy for the ongoing growth of the JGC Group, as well as the medium and long-term improvement of its corporate value.
2.

Disclosure Standards

JGC Holdings practices precise, fair and appropriate information disclosure, in accordance with the "Timely Disclosure Rules for Issuers of Listed Negotiable Securities or Valuable Instruments" (hereinafter "Timely Disclosure Rules"), as set by the laws and regulations in relation to the Financial Instrument and Exchange Law, as well as the Tokyo Stock Exchange.
For any information that is not covered by the Timely Disclosure Rule, JGC Holdings conducts disclosure of information deemed to meet the needs of the investors, such as the materials at the financial briefings, etc., in a proactive and fair manner.
3.

Methods of Information Disclosure

Information requiring disclosure under the Timely Disclosure Rules shall be disclosed on the Tokyo Stock Exchange information disclosure system (TDnet), complying to the Timely Disclosure Rules and upon the briefing to the Tokyo Stock Exchange. In disclosing information beyond what is required to be released under the Timely Disclosure Rules, JGC Holdings is endeavoring to ensure that such information is provided as much precisely and fairly as possible to general investors in an appropriate manner in light of the purpose of timely disclosure. Accordingly, when confirming any aspect of our disclosed information, it is recommended that you refer to both this homepage and TDnet.
4.

Disclosure Structure

JGC Holdings maintains the following organizational structure for the appropriate information disclosure stated above.
5.

Future Prospects

In addition to the performance forecast submitted to the Tokyo Stock Exchange, JGC Holdings may disclose guidance in relation to its future prospects for investors and securities analysts to conduct business forecasts. Likewise, any information mentioned in lectures, responses to questions, documents issued by JGC Holdings, contents posted on our website, may include current plans, forecasts, and business strategies.
In all cases, such information is a future forecast based on certain assumptions that are not historical facts and based on the judgment of the management from JGC Holdings upon the currently available information.
Therefore, we recommend that investors considering JGC Holdings' financial results and corporate value do not rely exclusively on these forward-looking statements.
Please acknowledge that the actual results could differ significantly owing to various material factors.
Factors affecting the performance include, among others, 1. Global and domestic economic conditions, 2. Domestic and global energy supply and demand, 3. Exchange rate.
6.

Regarding the Period of Silence

JGC Holdings establishes a "period of silence" before the announcement of its financial results and does not answer any questions or makes comments in relation to its financial results, to prevent the leakage of information that might influence stock price during the preparation period of the announcement materials.
During this period, however, should JGC Holdings anticipates that results will vary significantly from the forecasts, we will, accordingly, disclose such information by means of a press release or via TDnet.
Personal Information Protection Policy
1.

JGC Group shall take great care and shall use appropriate measures to protect the personal information received from leakage, loss and, disposal, as well as from unauthorized access, usage, alteration, and disclosure.

2.

Personal information received shall not be disclosed to third parties without the consent of the user, unless otherwise stipulated by law.

3.

Private information received shall be strictly managed to avoid unauthorized access by third parties to the extent legitimate.
Basic Policy for JGC Group Information Security
Information and information systems are important assets, and information security is essential in maintaining the trust of clients, business partners, and other parties, and for fulfilling our social responsibilities. Bearing this in mind, the JGC Group will establish a basic policy for JGC Group information security as follows, and each JGC Group company will make every effort to implement it.
1.

Observe applicable laws, regulations, and standards relevant to information security.

2.

Use information assets effectively within the required limits of business activities.

3.

Take reasonable safety measures and necessary corrective action to prevent unlawful computer access, loss of information, computer hacking, unauthorized modification of data, information leakage, etc.

4.

Set up an organization for promoting information security with the aim of making continued efforts in the approach to information security and its review, improvement, and enhancement.

5.

Provide corporate officers and employees with the necessary education and strengthened awareness with respect to information security.
The JGC Group establishes its group tax policy as below, which is consistent with our expressed purpose of "Enhancing planetary health" and our shared commitment to "Respect" and "Integrity". The JGC Group and all those working there shall follow this policy.
Compliance
The JGC Group understands, respects and complies with the relevant tax laws and legislative provisions which apply in all countries and jurisdictions where we are doing business.
Tax Control Framework
The JGC Group develops and operates an effective tax control framework under the responsibility and supervision of the Chief Financial Officer. JGC Holdings Corporation leads the development and operation of the framework. JGC Group companies contribute to the effective operation of this framework in association with JGC Holdings Corporation.
Tax Efficiency
The JGC Group makes efforts in order to achieve tax efficiency at group level through double taxation relief and tax incentive schemes available by considering the intention of tax laws and legislations. We do not adopt any tax planning schemes whose purpose is tax avoidance only.
Relationship with tax authorities
The JGC Group forms and maintains restrained and judicious relationships with tax authorities by observing stipulations from them in line with tax laws and legislative requirements.
Group Tax policy and our value
The JGC Group maximizes its enterprise value by maintaining our tax compliance, managing tax risks and pursuing tax efficiency.