Healthcare & Life Sciences

Cell Culture Technology
Cell Culture Technology
A Leader in Cell Culture Technology
Biopharmaceuticals such as antibody drugs and vaccines, and tissue engineering such as iPS cells have made considerable progress in recent years. Consequently, advanced technologies that can cultivate a large number of cells certainly is required.
Since 1991, when JGC first installed a bioreactor for mammalian cell culture in our Research & Development Center, we have developed various types of elemental technology for the engineering of mammalian cell culture bioreactors. Based on these technologies, JGC has designed and constructed many bioreactors, bio plants, and tissue engineering facilities.
JGC has completed a new type of cell culture bioreactor called the "VerSus Reactor®" jointly developed with Satake Chemical Equipment Mfg.,Ltd.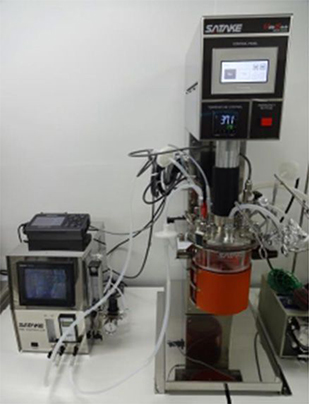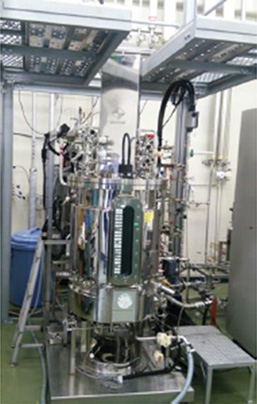 Conventional Bio-Reactor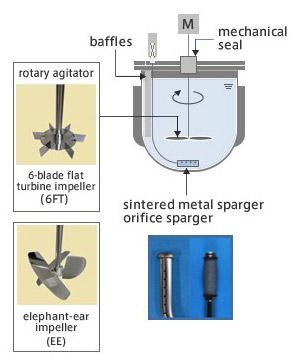 VerSus Reactor®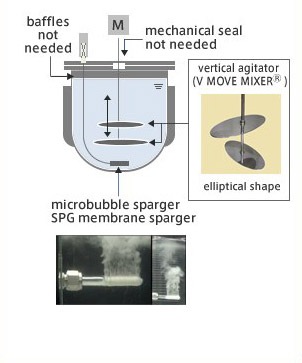 Technology combination of the "Shirasu Porous Glass Membrane (SPG Membrane) Sparger" (jointly developed by JGC with Miyazaki Prefecture Industrial Technology Center) which generates microbubbles to achieve a highly efficient and uniform supply of oxygen to cells, and the "VMF Reactor" (developed by Satake Chemical Equipment Mfg.,Ltd.), a vertical motion mixing bioreactor with a low shear/high efficiency uniform.
VerSus Reactor® helps minimize damage to delicate mammalian cells, thus increasing its productivity.
The cell culture experiment for antibody production by using the pilot scale VerSus Reactor® at JGC Research & Development Center demonstrated the maintenance of a cell viability ratio of more than 90 % and produced antibodies of 4.4 g/L with a culture time of 400 hours (more than 2 weeks).
Please visit the following websites for introductions to this technology
Large-Scale Cell Culture Technology in the Regenerative Medicine Field
There are diverse forms of the process in the regenerative medicine field and the requirements for cell culture will not be standardized for a while. Therefore, it is required to "to adopt, on a case-by-case basis, a flexible approach based on a rationale that reflects the scientific and technological advances at that point in time (A study on ensuring the quality and safety of pharmaceuticals and medical devices derived)."
JGC understands the business models and cell processing process that our customers have considered, and it is possible to consider facilities that can reproduce these more faithfully.
When there is a base model of cell culture equipment, we carry out technical considerations compared to the demand and examine feasible improvement measures with related suppliers. This helps actualize high-quality culture equipment.
It is possible to leverage the strengths of various excellent apparatus suppliers and consider complex facilities together, which only one company would not be able to actualize.
JGC also considers gradual automation that matches the technology level and timing of investment decisions. In that case, it is very important to connect the boundary between "manual handling" and "automated handling" with an appropriate material flow. We consider both overall optimization to maximize throughput and also core cell culture equipment.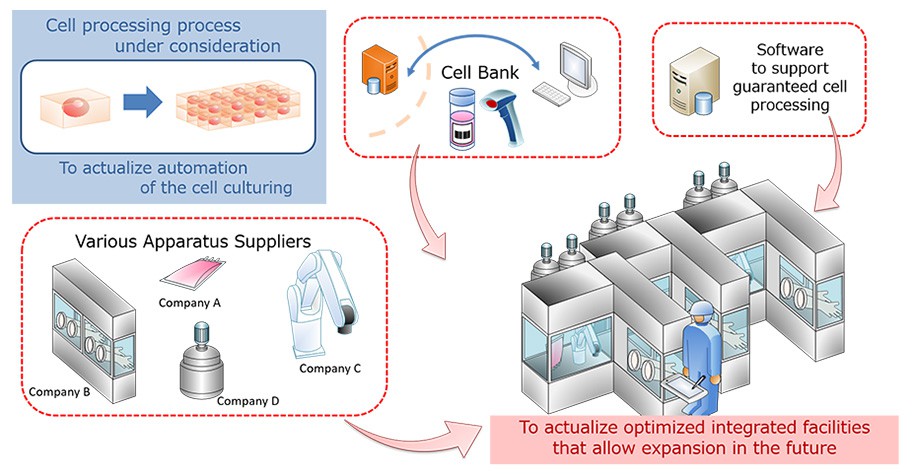 Our customers focus on "advancement of the cell processing process" and "Large-scale cell culture equipment plans," and JGC strongly backs up the realization of this.
Healthcare & Life Sciences