Human Rights Compliance
Recognizing that a respect for the human rights of all people affected by our business is a fundamental principle of our business, the JGC Group abides by the International Bill of Human Rights and the ILO Declaration on Fundamental Principles and Rights at Work of the International Labor Organization (ILO). A basic policy on human rights was established in fiscal 2021 to emphasize this commitment, and we ask not only the Group members but also all business partners to join us in respecting human rights. (Basic Policy for Human Rights & Development)
Framework for promoting human rights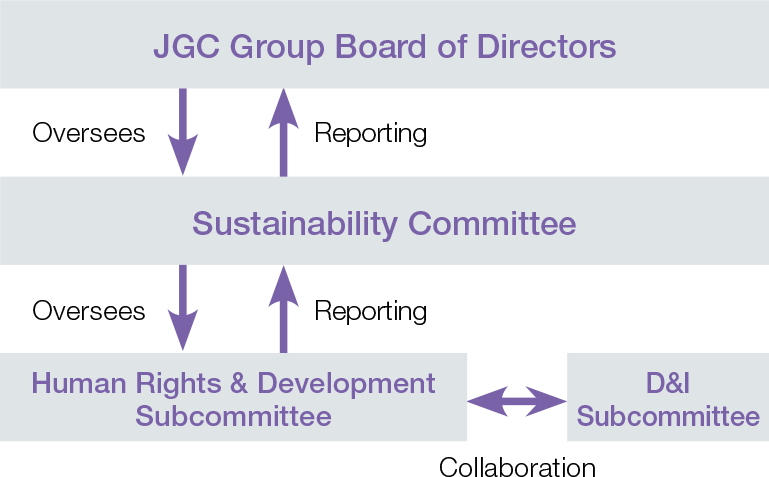 Under the Sustainability Committee chaired by the chairman and CEO of JGC Holdings, the JGC Group has established the Human Rights & Development Subcommittee as part of our human rights framework. To promote a unified, group-wide approach to human rights, the subcommittee consists of senior executives of main Group companies and works with the D&I* Subcommittee led by a human resources department. This ensures that respect for human rights is part of our corporate culture. (Sustainability Management)
*

D&I stands for Diversity and Inclusion
Human rights due diligence
In accordance with the UN's Guiding Principles on Business and Human Rights, we conduct human rights risk assessment on all EPC business stakeholders, including JGC Group employees, subcontractors, suppliers, business partners, and clients, to determine any potential human rights issues that may arise over the course of business. These issues are evaluated from standpoints such as likelihood and severity in order to identify priority risk issues. Risk reduction measures will be studied and implemented starting in fiscal 2022-2023, and we will seek to take similar measures in Functional materials manufacturing and other business.

JGC Vendor and Contractor Expectations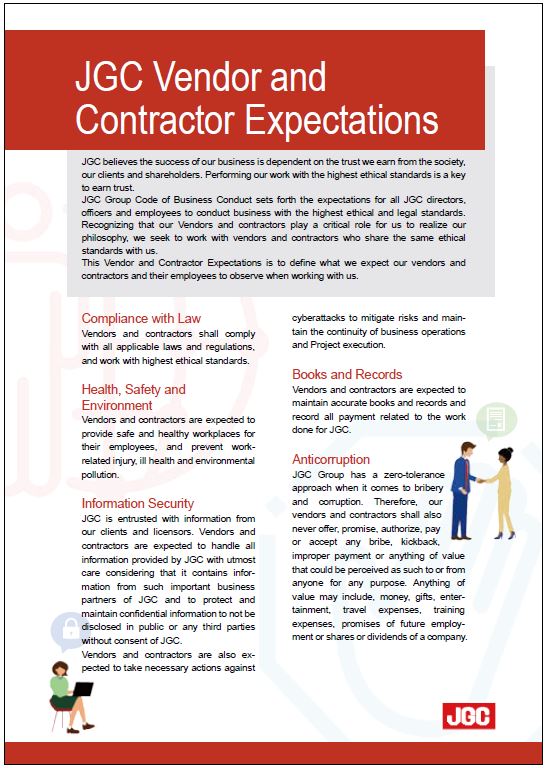 Potential subcontractors receive and are asked to understand a JGC Vendor and Contractor Expectations document that includes rules on respecting human rights. Respecting human rights is also stipulated in contracts concluded with partner companies, who are requested to understand and respect internationally recognized human rights.
Member of Building Responsibly

Overseas operating company JGC Corporation is a board member of Building Responsibly (BR), an organization committed to protecting construction workers' rights and respecting their welfare. BR promotes respect of human rights for construction workers by establishing international standards and guidelines on work environments and conditions for occupational health and safety and housing.