Ensuring thorough respect for human rights, including in supply chains
Ensuring thorough respect for human rights, including in supply chains
Protecting the Human Rights of Business Partners
EPC business involves projects with partner companies of all kinds, such as vendors and subcontractors. As a prime contractor, we recognize that a key duty of ours is to protect and manage the human rights of those working for our subcontractors on our behalf. We are committed to protecting human rights, including those of our business partners, by protecting the rights of those working across our supply chains and respecting their welfare.
System for Managing Human Rights Protection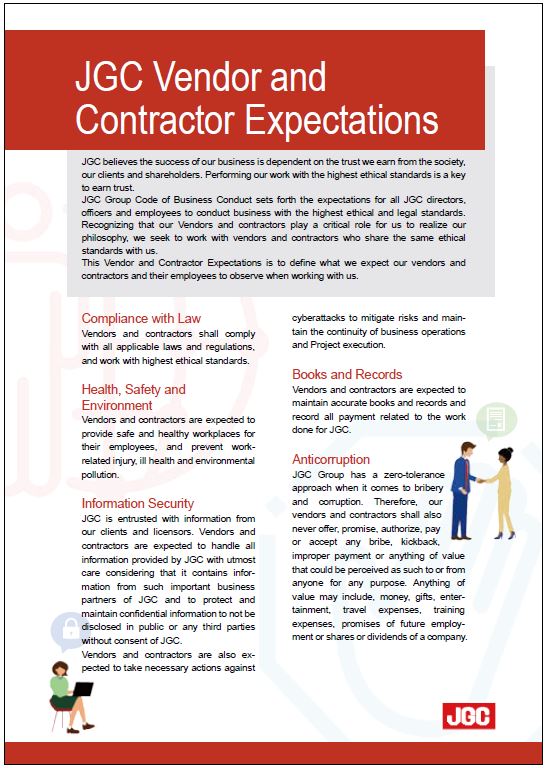 Potential subcontractors receive and are asked to understand the JGC Vendor and Contractor Expectations, which includes rules on respecting human rights. Rights protection is also stipulated in contracts concluded with partner companies, who are requested to understand and respect internationally recognized human rights. We will also consider conducting human rights due diligence for partner companies in the future.
Membership in Building Responsibly

JGC Corporation is a board member of Building Responsibly (BR), an organization of engineering and construction companies mainly in the oil & gas industry that is committed to protecting workers' rights and respecting their welfare. BR promotes rights protection for construction workers by establishing principles and guidelines that serve as international standards on their work environments, occupational health and safety conditions, and housing conditions.