Smart Factory
Support for Improving the Competitiveness of Assembly Factories

We provide total optimization support from the conceptual design stage, including upstream processes and layout construction, for assembly factories (discrete manufacturing) such as food and cosmetics factories, logistic facilities, and machining facilities. As a system integrator, we propose and build total systems for smart factories, using digital technology and automation technology. In addition, we will also propose solutions for decarbonization and low carbonization, for which there has been an urgent demand from various industries in recent years, thereby contributing to solving these problems and realizing the transformation of the domestic manufacturing industry.
JGC's vision of the Smart Factory
Solving all the challenges of the factory
The smart factories proposed by JGC group not only aim to improve productivity by introducing digital and automated technologies, but also to solve problems related to the operation of the factory, including environmental measures. As an engineering company with a wide range of engineering skills, including architectural, mechanical, and electrical design, we can offer comprehensive solutions to all the issues faced by our clients, from the conceptual stage onwards, as well as overseeing the entire project to optimize the cost, quality, and schedule of the facilities to be built.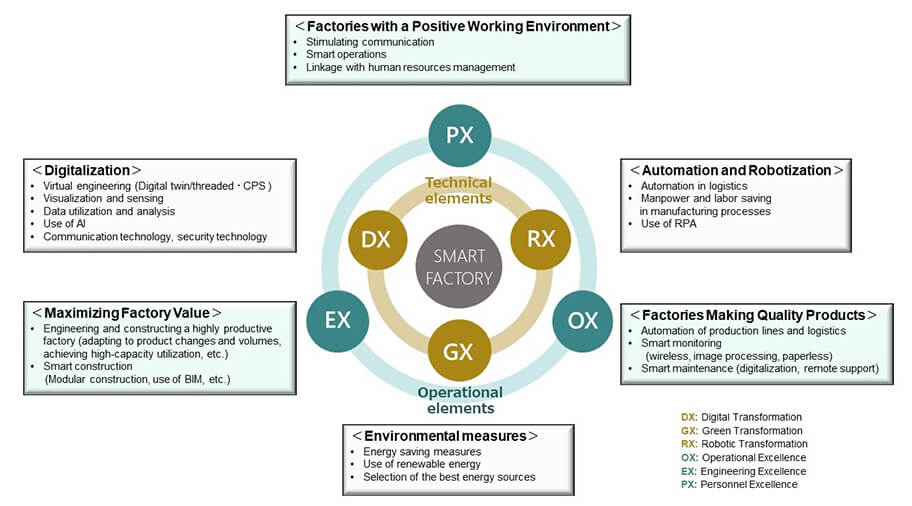 Central control system for smart operation of the whole factory
In process plants, where the JGC Group has a great deal of experience, the entire plant is monitored and controlled from a central control room by means of the use of many sensors throughout the facility The concept of a "central control system" can also be introduced in assembly factories (discrete manufacturing) to control the complexity of variable type and variable volume production, reduce waste and retention in the factories, and enable smart operation of the entire factory through two-way communication among the people and machines on site.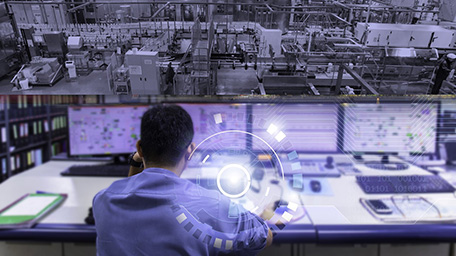 Optimized layout for intra-factory logistics
To achieve total optimization of a factory, it is important to optimize the hardware, such as the layout of the entire factory, in addition to the introduction of software technologies such as digital technologies. The JGC Group's engineers are well versed in a wide range of technologies and can optimize not only the individual manufacturing processes through the introduction of digital technology, but also the entire factory, including internal logistics, using logistics planning technology and other layout construction capabilities.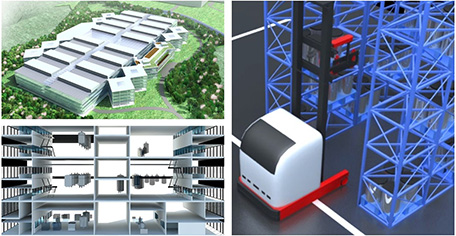 Our Technologies