Approach to IP (Intellectual Property) and Intangible Assets
Approach to IP (Intellectual Property) and Intangible Assets
Let us introduce you to our approach to IP and intangible assets. Click on your item of interest for details.
JGC Group's View on IP and Intangible Assets
At the JGC group, we are proactively working on creation, protection, application, and risk management of IP and intangible assets, based on the ideas described below to solve social problems and realize the creation of economic, social, and environmental values, through our businesses. We are working to realize this by demonstrating our "management capabilities, vision, technical expertise, and risk management" which are our core competencies.
1.

Creation of IP and Intangible Assets


We will create IP and intangible assets that meet the needs of society and our customers, by undertaking the "creation of knowledge" by multi-faceted conceptualization of various ideas within the JGC group, and the "fusion of knowledge" by finding excellent technology outside of the group and co-creating together with partners.

2.

Protection of IP and Intangible Assets


We will protect the IP and intangible assets contributing to sustained growth of our business, and value enhancement by appropriate management of trade secrets and a mixture of IP or intangible assets that includes patents, trademarks, designs, know-how, systems, software, technical brands, and so forth.

3.

Promotion of Business by the Application of IP and Intangible Assets


We will make efforts to achieve a competitive advantage for our general engineering business and functional materials manufacturing business, and strengthen our technical licensing business, by broadly applying our accumulated IP and intangible assets. We will further link our business strategy and technology development strategy with our IP strategy, and promote establishment of new business models and commercialization of technology through collaboration with others.

4.

Risk Management Regarding IP and Intangible Assets


We will respect the IP rights of others, and make efforts to take appropriate actions. Furthermore, we will comply with IP laws and regulations, and will make efforts to improve our literacy of IP and intangible assets, to minimize IP risks.
Examples of forms of usage

Building a Strategic IP Portfolio
Proportion of Patent Ownership by Business Segment
At the JGC group, in order to realize stronger competitivity and sustained growth of our businesses, we continue to acquire and maintain IP rights, focusing on catalysts in functional materials manufacturing businesses, fine chemical fields, and so forth, in addition to oil and gas, LNG, chemicals, and life science fields, in the general engineering business, which is an important segment. Moreover, we are reviewing the IP rights that will be needed in line with the business development and technical trends, securing businesses for own implementation, and we are also working on building an IP portfolio that will benefit co-creation activities with third parties along with technology licensing.
Proportion of patent ownership by business segment in general engineering business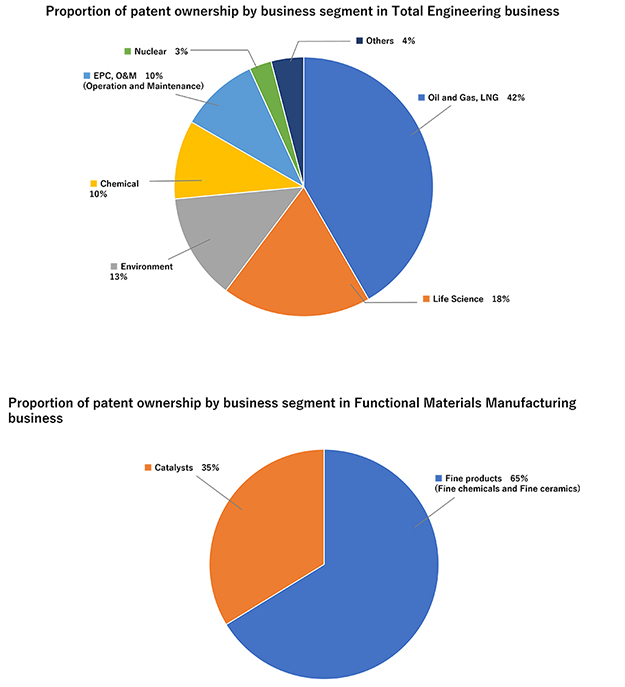 Proportion of patent ownership by business segment in functional materials manufacturing businesses

Proportion of Patent Ownership and Patent Applications by Region
We are expanding our business focusing on general engineering and functional materials manufacturing business, not only in Japan, but in countries and regions around the globe. The number of our patent applications overseas, especially in Asia, which is the business region that we specialize in, is increasing. We are conducting systematic acquisition of rights in line with our global business expansion.
Proportion of patent ownership by region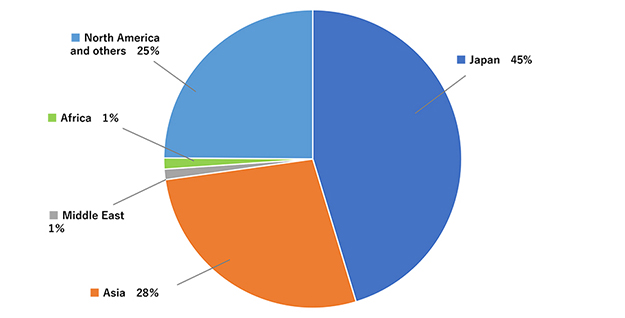 Proportion of Patent Applications in Our Fields of Focus
At the JGC group, we have initiated intellectual properties portfolio constructing activities related to the digital transformation, which will be an innovative technology for business efficiency, and the five fields of focus in our "2040 Vision" that we have set to be our long-term management vision. We plan to gradually increase the proportion of patent applications in the fields of carbon management, including low-carbon or carbon-free technology to make up our energy transition, clean energy, and high-performance materials.
Transition of the number of patent applications by the JGC group in our fields of focus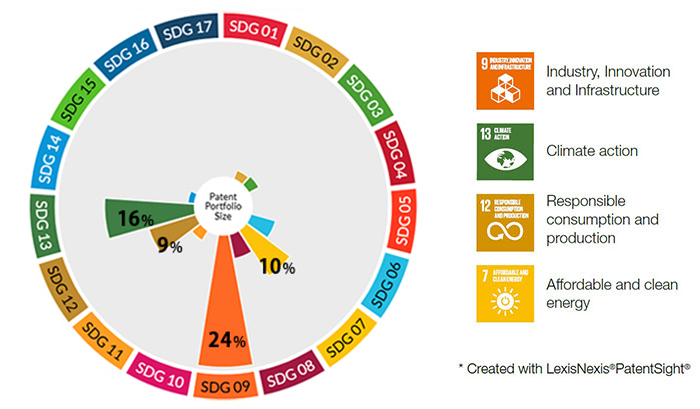 Our group is promoting collaboration with new business partners to expand our business region and realize diversity of our business model. By fusing IP and intangible assets that are the strengths of our group and our partners, we will focus our efforts on system integration and digitalization of existing fields and new fields, and in creation of new businesses.

Also, mid-to-long-term efforts, such as confirmation of performance and operation through verification testing is indispensable for technology development regarding sustainability, such as chemical recycling, clean energy, and so forth. In such mid-to-long-term efforts involving social issues, we are actively taking part in government research and development projects and so forth, and are working toward social implementation of large-scale technology development themes, such as proposing solutions through cooperation of government, business, and academia.
Implementation System of IP Strategies Linked to Business and Development Strategies
Under our technology commercialization council, chaired by the TCO (Technology Commercialization Officer) as the general manager, we are constructing a system that promotes the development, research, and commercialization in the exploratory area, and are efficiently and effectively evaluating the level of maturity of technologization and commercialization.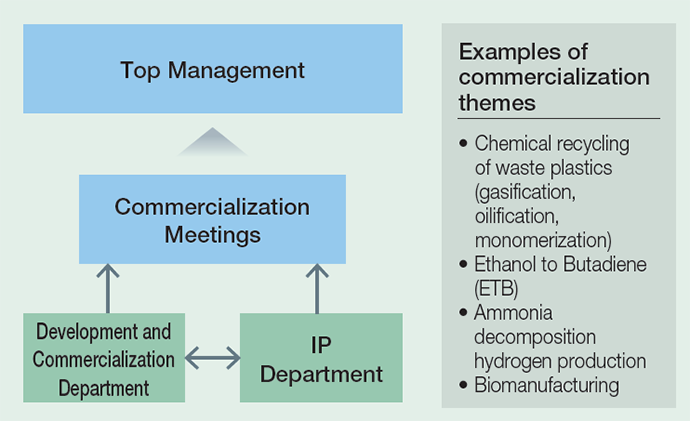 In important technology development themes, we provide multiple stages from research and development through commercialization, perform reviews regarding IP in gate examinations at stage transitions. And, we also perform monitoring by PDCA sheet, to make sure that planning and implementation of the IP strategy is being carried out in a sure manner, in conjunction with business strategy and technology development strategy.


Strategic Usage of IP and Intangible Assets
Forms of use of IP and intangible assets in our group can be roughly classified into five categories. Re-examination of the management system of technology information, such as protection of IP and intangible assets appropriate for each usage, know-how, and so forth, is performed, to improve cooperate value by maintaining superiority in business and creating new businesses.

Risk Management for IP and Intangible Assets
One of various types of risk minimization activities regarding businesses and projects is handling risks related to IP and intangible assets. In the JGC group, the business department, the technology development department, the legal department, and the IP department cooperate to identify and reduce IP risks.
| Risk handling | Content |
| --- | --- |
| Implementing patent clearance | Appropriate measures are taken respecting the IP of others, and focus is on dealing with patents of other companies, to prevent patent litigation and so forth in advance. |
| Technology contract review | In projects and licenses, and various types of technology contracts in joint development, it is important to maintain a good relationship among customers, licensers, licensees, and business partners, and construct an appropriate business relation. To this end, thorough management of technology contracts is performed. |
| Information management of trade secrets, etc. | Know-how and trade secret information, such as EPC implementation, manufacturing technology, and so forth, is an important intangible asset of our group. Protection of trade secrets is enforced from both of human-related measures and object-related measures, through developing various types of rules, constructing information management systems, in-company education, and so forth, from the perspective of information security. |
Educational Programs on IP

Continuously creating innovation is indispensable in commercializing technology and deploying business models. We have developed a rich in-house education program, as one of various types of measures to guide the employees of our group, who are the main entity of innovation activity, into being an innovative engineer group.
We are also putting efforts in our "JGC IP Academy" which is education regarding IP and intangible assets, so that each employee can recognize the importance of IP and intangible assets, and include a perspective of IP in their own duties in carrying out business activities. This is a program configured to separately target beginners, practitioners, and management. Correctly knowing rules and potential risks relating to IP is a help in realizing thorough implementation of compliance with respecting the rights of others ("JGC Group Code of Conduct" 6.2 Information Management and Protection of IP Rights).