Message from Top Management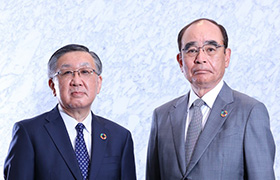 Since its establishment in 1928, the JGC Group has developed its business as a presence that supports the foundations of industry as well as society by placing the harmonization of energy and the environment at the center of the issues it must address. While constantly striving to undertake self-reform in tandem with the changing times, it has worked to expand its businesses.
Today, paradigm shifts in society and industry are occurring at an unprecedented speed, and the business environment surrounding the JGC Group is changing dramatically. Global climate change issues, innovations in digital technology, and the coronavirus pandemic, form the backdrop for our ongoing efforts.
In order for the JGC Group to achieve sustainable growth in these uncertain times, we must respond quickly and flexibly to changes in the environment and transform ourselves. With this in mind, we have defined our purpose as "Enhancing planetary health," and have been working on our long-term management vision, "2040 Vision," as well as our medium-term management plan, "Building a Sustainable Planetary Infrastructure 2025" (BSP).
By 2040, the JGC Group aims to achieve its goal of "Enhancing planetary health" by making full use of the technologies and track records we have accumulated over the years as we aim to solve the following three social issues: pursuing both a stable energy supply and decarbonization, reducing the environmental impact of resource consumption, and building and maintaining vital infrastructure and services. We will diversify our business into five domains, including energy transition, and proactively transform ourselves to achieve sustainable growth.
The five years from FY2021 to FY2025 are positioned as the first phase of our "2040 Vision", the five years of challenge. In the BSP 2025 medium-term management plan, we will focus on the following key strategies: "transformation of EPC operations," "expansion of high-performance functional materials manufacturing business," and "establishment of future engines of growth". In addition, we will continue to expand and diversify our sources of income by proactively making strategic investments.
We look forward to your continued support and encouragement in the years ahead.
JGC HOLDINGS CORPORATION
Masayuki Sato
Representative Director
Chairman and Chief Executive Officer (CEO)
Tadashi Ishizuka
Representative Director
President and Chief Operating Officer (COO)