Message from Top Management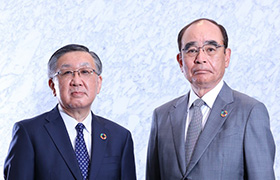 JGC CORPORATION made the transition to a holding company structure on October 1, 2019, changing its business name to JGC HOLDINGS CORPORATION. With this transition in structure, the overseas plant and facility Engineering, Procurement and Construction (EPC) business that was operated by the former JGC CORPORATION will now be overseen by the newly established JGC CORPORATION. The company's domestic EPC business will be conducted by a new JGC JAPAN CORPORATION, following a business integration with the company's 100% subsidiary JGC PLANT INNOVATION CO., LTD. This represents a new start for the JGC Group under a new management system.
The world of fossil fuel and energy, with which we have been closely involved via our plant engineering business, has dramatically altered the global supply of energy through the rapid progress in the development and use of shale oil and shale gas in North America since the mid-2000s. At the same time, the establishment of bedrock energy, electricity, water, and medical infrastructure is an urgent task for developing nations in their quest for economic development against the background of increasing populations and ongoing urbanization. Added to this is the increasingly strong demand at the global level for progress in the use of energy that has minimal environmental impact and will contribute to the realization of low-carbon or zero-carbon societies. As this indicates, humanity faces a large number of issues on a global scale that must be resolved if we are to realize ongoing sustainable growth.
Against this background, we are seeking to realize the vision for the Group set out in "Beyond the Horizon," our five-year Medium-Term Business Plan that commenced in fiscal 2016, and achieve an ongoing increase in our corporate value, rapidly but with certainty. It is to realize these goals that we have made the transition to a holding company structure. Going forward, we see the profits generated by our multiple business areas, including oil and gas and infrastructure overseas, and EPC and the manufacturing of functional materials in Japan, contributing to the realization of a corporate group displaying stable and sustainable growth.
Recognizing that "creating a more prosperous future for our clients, for people and for society through integrating our core capabilities and technical expertise to generate innovative solutions" is the role that we must fulfill as a Group, we will seek to grow and develop as a corporate entity that not only realizes increased value for its customers, but also contributes in a broader range of domains to the resolution of social issues and problems that must be addressed and overcome both in Japan and on a global scale.
JGC HOLDINGS CORPORATION
Masayuki Sato
Representative Director
Chairman and Chief Executive Officer (CEO)
Tadashi Ishizuka
Representative Director
President and Chief Operating Officer (COO)