Message from Top Management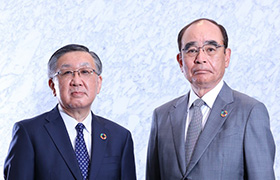 JGC Corporation (JGC) was founded in 1928 as Japan's first engineering contractor. During its almost 90-year history, the company has been actively engaged in providing Engineering, Procurement and Construction (EPC) services for plants and other facilities to customers in Japan and over 80 overseas countries. The company has dedicated its professional services to the engineering and construction of over 20,000 plants and facilities in an ever-expanding variety of business areas. These range from energy and chemical-related fields including oil, gas and resource development, petroleum refining, LNG and gas processing, and petrochemicals, to pharmaceuticals, medical services, nuclear power and non-ferrous metals.
Presently, the situation of the hydrocarbon area, which accounts for a large proportion of JGC's plant engineering activities, is drastically changing as a result of the sudden increase in development and use of shale oil and shale gas in North America since the middle of the first decade of this century. Coinciding with such change, infrastructure development in the areas of energy, electric power and health remains a pressing challenge for emerging nations faced with pressures from rapidly growing populations and increased urbanization.
At the same time, on a global scale there is a growing need to contribute to the successful realization of a low-carbon society in which energy generation will be less of a burden on the environment while ensuring sustainable progress. The drive toward sustainability confronts us all with high hurdles to overcome.
JGC's new 5-year Medium-Term Business Plan, "Beyond the Horizon", was adopted in May 2016. Based on these principles, the company intends to continue along the path of growth and technological improvement in its traditional field of oil and gas EPC. It will concurrently expand its business domain in the areas of energy infrastructure, social infrastructure, industrial infrastructure, as well as related fields, while increasing the company's involvement in investment businesses and manufacturing. With this growth oriented approach, JGC's goal is to confirm its rank as one of the world's top engineering contractors in terms of the breadth and depth of its activities.
Recognizing its role in working for the realization of solutions that contribute to our mission of "committing to the creation of a more prosperous future for our clients, for people and for society through integrating our core capabilities and technical expertise to generate innovative solutions", the JGC Group will continue to develop its capabilities, broadening and intensifying its contributions in a widening range of domains and seeking to identify solutions to problems which face the world.
Masayuki Sato
Representative Director
Chairman and Chief Executive Officer (CEO)
Tadashi Ishizuka
Representative Director
President and Chief Operating Officer (COO)