LNG
World Leading Contractor for LNG Plants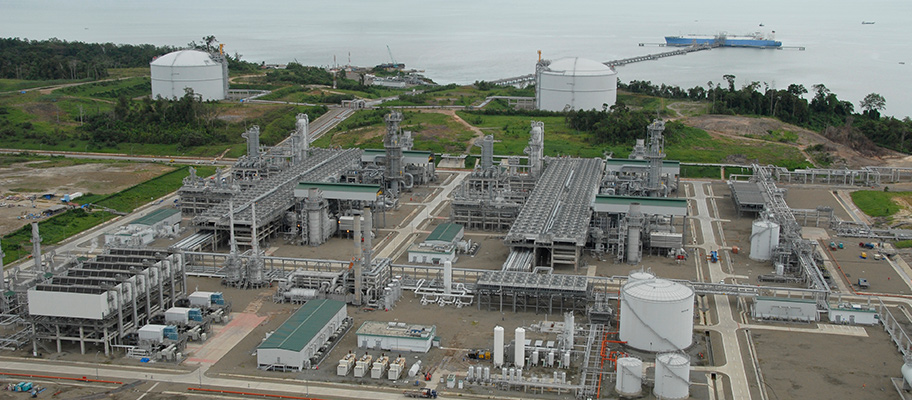 JGC has designed and built liquefied natural gas (LNG) plants that account for over 30 % of the world's current total LNG production volume. As a leading LNG plant contractor, it has helped customers succeed in projects by accommodating their needs. It expects growing demand, mainly in Asia, for LNG, which places less burden on the environment and can be consumed in locations far from the production site.
In response to this increased demand, development plans for the exploitation of LNG resources in the polar region that was previously considered too difficult to access and the development of smaller gas fields are being explored. Maintaining its position as leading contractor for LNG plants, it pursues refinements such as the utilization of modular construction for facilities, the development of project execution technologies for regions with extreme cold weather, and the practical use of FLNG and combines these with its excellent project management capabilities.
In recent years, client needs with regard to climate and topography on construction sites, feed gas composition, environmental measures, etc. for LNG plants have been growing more diverse and complex. In particular, consciousness of the need for environmental and ocean ecology conservation measures has been increasing, and the demand for LNG plants using air-cooled heat exchangers has been growing rapidly. To help meet this demand, JGC now offers a total engineering service, AIRLIZE LNG®, which aims to maximize production capacity and rate of operation for air-cooled LNG plants, while minimizing construction and operation costs, providing diverse solutions for a wide array of client needs. The core technology supporting AIRLIZE LNG®, HARview®, is an original technology developed by JGC, and has garnered high praise for its utility in creating a simulation of air flow within a plant, analyzing it to increase production capacity.