About JGC
Facts and Figures
Established

1928
Project Completion Record

More than 20,000 projects
in over 80 countries
World's Best Record of
Zero Accidents Requiring Time Away from Work

Approx. 130 million hours
*For the total duration of the Qatar gas processing project from July 12, 2012 to March 25, 2014
Net Sales by

Overseas : 68%
Domestic : 32%
Net Sales

619.2 billions of Yen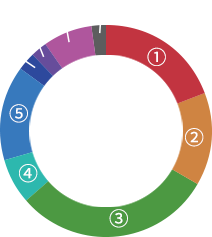 ①Oil and Gas Development (119,991)
②Petroleum Refining (87,299)
③LNG (187,816)
④Chemical (43,249)
⑤Power Generation, Nuclear Power and New Energy (89,706)
⑥Living and General Production (15,678)
⑦Environmental Protection, Social Development and IT (16,132)
⑧Catalysts and Chemical Products Business (45,996)
⑨Other (13,369)
Corporate Philosophy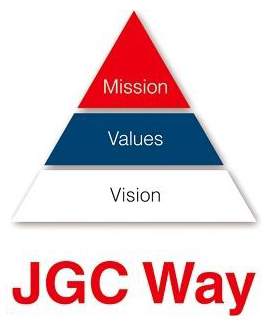 Mission
We are committed to creating a more prosperous future for our clients, for people and for society through integrating our core capabilities and technical expertise to generate innovative solutions.
Values
We are driven by our shared values and commitments. These elements express our strengths and represent the basis for how we work and deliver solutions to our clients and stakeholders:
Vision
We bring a new generation of innovative solutions to the energy and infrastructure industries by utilizing our core competencies in engineering and project management.