 Toward Stable and Environmentally Sound Energy
Osaki Coolgen Project - Hiroshima, Japan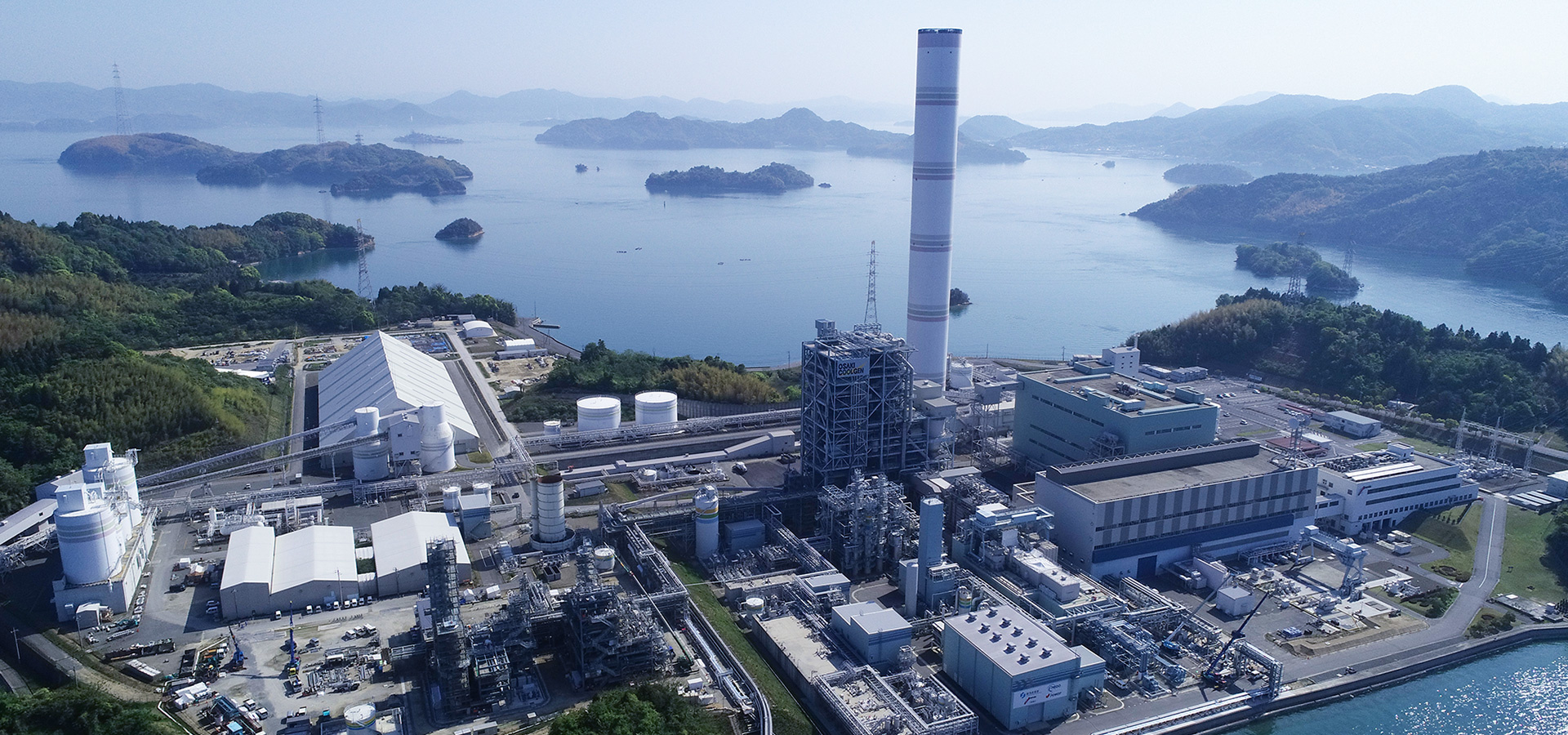 Coal Power Plants in Line with Environmental Needs
More abundant than oil or natural gas, coal is an inexpensive, widely available resource. Coal reserves can be found in many politically stable countries. We expect a higher future demand not only in Japan, but across Asia for coal-fired power plants to meet baseload power needs. However, because coal produces more CO2 emissions than other fossil fuels when burned, clean coal technology must be developed to improve coal power plant efficiency and slash emissions.
With this in mind, the Osaki CoolGen Project was envisioned to be an innovative low-carbon coal power plant. In accordance with Japan's clean-coal policy and assistance from the New Energy and Industrial Technology Development Organization (NEDO), ultra-high-efficiency Integrated Coal Gasification Fuel Cell Combined Cycle (IGFC) generation technology is combined with carbon capture.
In the IGCC sector, JGC has designed and constructed IGCC facilities in Japan that burn residual oil from petroleum refining. In CCS, we have engineering and construction experience not only in Japan, but also in Algeria and Australia. The Osaki CoolGen Project was therefore a unique opportunity for JGC to apply technical expertise and knowledge gained from past projects.
After participating in the initial stage of building the oxygen-blown coal IGCC facilities of this project for Osaki CoolGen Corporation (a Chugoku Electric Power and J-Power joint venture) in 2012, JGC received orders for the second stage of carbon capture facility engineering and construction, and the project kicked off in May 2017.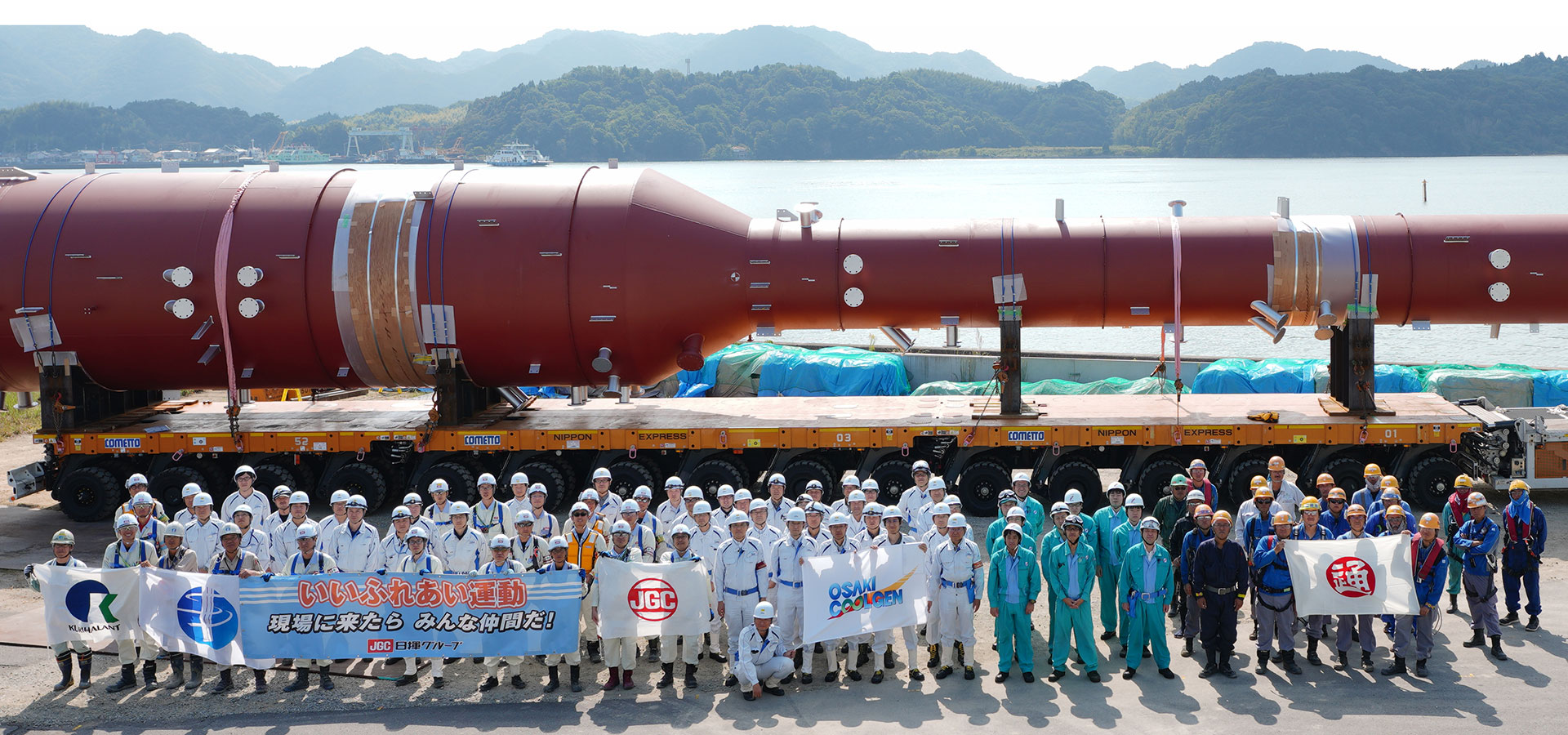 Challenging Project on a Remote Island
A 30-minute ferry ride from the city of Takehara in Hiroshima, the Osaki CoolGen Project construction site lies on the scenic Inland Sea island of Osakikamijima, where local produce includes lemons, tangerines, and blueberries.
Construction on an island not accessible by bridge required different arrangements than for ordinary construction on mainland Japan. For all 400 workers (including JGC personnel) expected during peak construction, ample provisions were secured along with accommodations. Steps were also taken to ensure workers' mental health. All equipment and materials for the facilities would also be ferried in, which required precise coordination on a scale of minutes for each scheduled arrival and departure.
On the clear morning of October 9, 2018, at 8 a.m., several dozen project members at the construction site on Osakikamijima anxiously fixed their gaze on a looming shape. They watched as a giant CO2 absorption tower - a key component of the carbon capture and storage facility, nearly 40 m long - was hoisted ashore. Before the day was over, the members would need to move the tower on-site and finish installation. By no exaggeration, this pivotal moment would determine the success of the project.
Project manager Miyamoto recalls his thoughts, staring at the massive tower as it came ashore. "When I finally saw the actual structure I had spent years studying with many other project members since the planning stage, it made me shiver to imagine how great my own responsibility was."
Soon after 9:30 a.m., once the tower was unloaded, the crew barely had time for a break before they began the arduous process of transferring it on-site, winding their way between construction in progress. In some cases, subtle adjustments on the scale of millimeters were needed, as the absorption tower passed under a steel frame only about half a meter higher and the truck squeezed through narrow spaces on its way. Then a huge crane with a 500-ton lifting capacity (rarely seen at construction sites in Japan) hoisted the tower up, and by 5 p.m. installation was finished, right on schedule. A look of relief passed over the faces of crew members, now that they could finally relax.
Just three months earlier in July of 2018, the construction site for the Osaki CoolGen Project was among the areas lashed by heavy rain sweeping through western Japan. Although the storm temporarily stopped production at equipment suppliers, JGC minimized the impact by revising construction plans, dispatching project members from other areas, and taking other effective measures.
Construction Manager Takahashi showed shown leadership on-site and supported project execution from the front lines, overcoming frequent difficulties. Throughout the construction, he took taken a stance of giving project members (with more than half being in their 20s and 30s) chances to show their abilities and be responsible, which established a sense of self-direction among younger workers.
The team spirit - regardless of members' age or company affiliation - built through these steady efforts and supported by the client gave the Osaki CoolGen Project enormous momentum.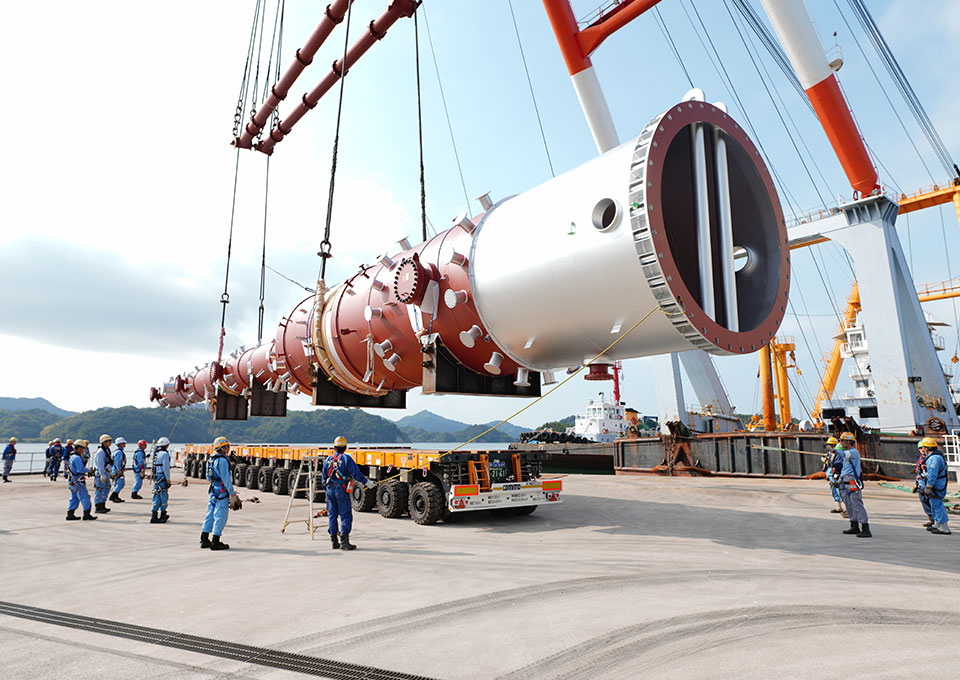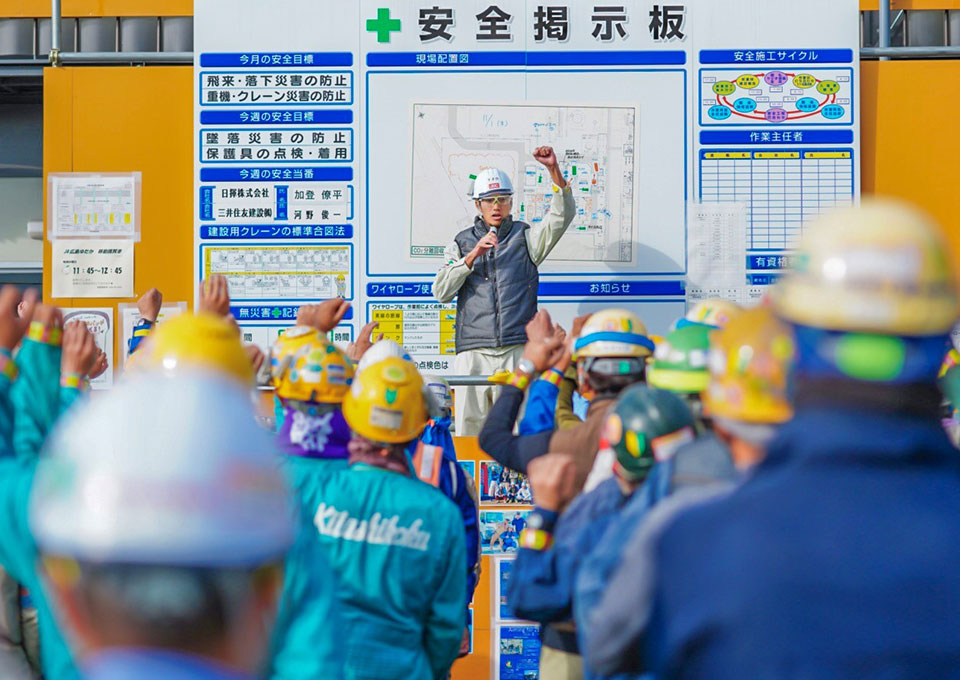 Toward Societies in Harmony with Nature
Another driving force in the Osaki CoolGen Project was JGC's commitment to addressing environmental issues.
JGC is working toward environmental solutions across a broad range of business segments. For example, JGC builds liquefied natural gas (LNG) plants and others with a light environmental footprint, as well as power plants that use renewable energy sources such as solar power. HiPACT provides a low-cost method of carbon dioxide capture and storage using an innovative technique to recover CO2 at high pressure from natural gas. In Carbon Dioxide Capture, Utilization and Storage (CCUS), JGC promotes a technique using a DDR-type zeolite membrane*2 with outstanding CO2 separation performance that can be used even under high pressure. With this technique, CO2 is injected into an oil reservoir to force out remaining crude oil while storing the CO2 underground.
The successful completion of the Osaki CoolGen Project became another noteworthy JGC achievement, an achievement driven by a shared commitment of all project members to address environmental issues.
*2

Zeolite is a microporous crystalline aluminosilicate. Many varieties of zeolite are currently being synthesized artificially and used industrially as a catalyst, adsorbent, etc. DDR is one of zeolite's framework structures. DDR-type zeolite membrane is jointly developed by NGK INSULATORS, LTD.