Monomerization
Realization of Fiber-to-Fiber Chemical Recycling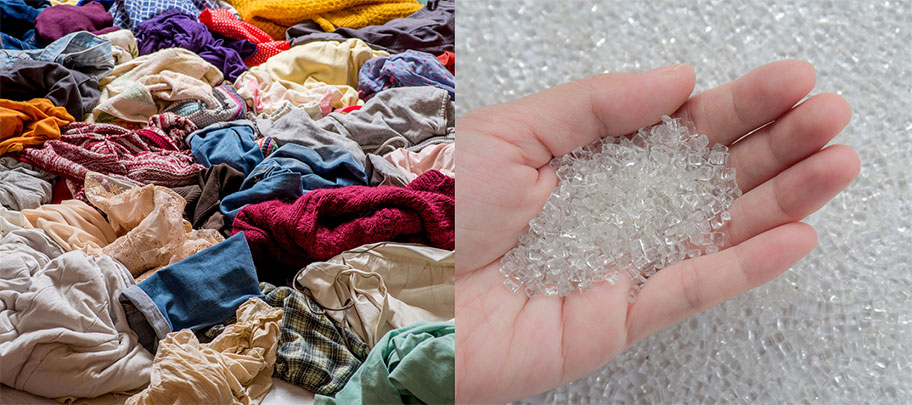 Monomerization technology of polyester enables chemical recycling of any discarded polyester products, such as fiber, textile, film and bottles. JGC Group has been working to develop and commercialize the technology which can be licensed for the chemical recycling of polyester both domestically and internationally. We will collaborate with companies that have a proven track record of commercial operation and a broad network in the textile and fiber industries, and will work with them to develop a business model that is compatible with the project as we aim to grow a licensing business employing the relevant technology. By using this technology, dyes and impurities contained within feedstock can be removed, which had been considered difficult in mechanical recycling*1, and therefore, it is possible to produce recycled pellet with same quality as virgin products derived from petroleum. The JGC Group offers a wide range of services, from proposal of treatment processes suit for the feedstock to the design and construction of plant and equipment on a scale that meets the needs of clients. Also, we support the construction of recycling systems that unify upstream and downstream of recycling. In respect to future development, we are also looking into the possibility of realizing traceability*2 throughout the product lifecycle (from manufacturing to recycling) by utilizing DX technology.
The JGC Group will continue to promote the closed-loop*3 recycling of all polyester products, including textile fiber products (e.g., clothing, films, bottles, etc.). and we will work to solve the problem of large volume disposal of textile and fiber products.
*1

Material Recycling: Reuse of waste materials as raw materials for new products materials after shredding, washing, or other treatment.

*2

Traceability: The traceability from the procurement of raw materials through their use in the production of products, their consumption and disposal, in order to clarify "when, where, and by whom" the product was made.

*3

Closed-Loop: A system in which the materials from discarded products become "new resources" by using chemical recycling technology, and the resources are entirely recycled in the system.