PMC/FS/FEED
JGC Master Planning Responds Fully to Clients' Expectations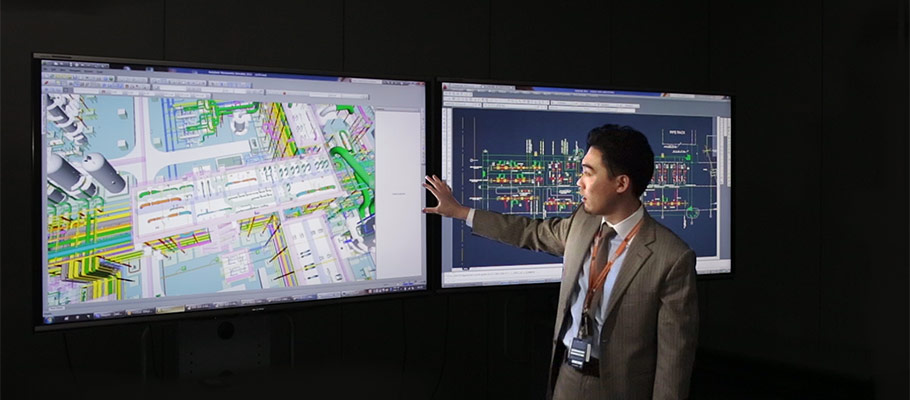 Feasibility Study - Project Proposals for Maximal Return on Minimal Investment
Feasibility studies (FS) are a vital part of the initial stages of a project, to confirm profitability of a client's investment. JGC's feasibility studies include conducting surveys, gathering data, and analyses of the whole environment surrounding a project, in accordance with the purpose of the client's investment. Drawing on the experience and know-how we have gained through more than 20,000 projects in Asia, Oceania, the Middle East, Africa, South America, North America, Eastern Europe and Russia, we consider projects from many different angles, to provide our clients with optimized project plans that minimize investment costs while maximizing profit. Also, in order to meet client needs for funding, funding plans that take advantage of country ECA financing are available with help from a structured finance specialist.
FEED Packages are the Detailed Engineering Bible
FEED (Front End Engineering and Design) involves conducting actual engineering work according to the specifications set out in the business plan outlined in the feasibility study (plant capacity, facilities configuration, etc.) The main purpose of FEED is to create a full set of technological specification documents, called a FEED package, in line with the wishes of the client and the idiosyncrasies of the particular project. FEED is a hugely important process during which 60-70 % of project costs are decided. JGC draws on our wealth of experience and project execution know-how, using the latest engineering tools to maximal effect to determine optimal process flow, and deliver a FEED package that meets clients' needs with regard to operations, safety, and the environment. By working closely with process licensers and using the knowledge we have gained from executing numerous EPC projects, JGC suggests potential improvements to our clients. By conducting both FEED and EPC work, we can reduce project risk and shorten the entire project schedule, adding another layer of efficiency to clients' investments. The FEED Package created by JGC, which is based on extensive EPC experience developed over many years, will contribute to maximizing earnings over the project life cycle from design to operations through optimizing investment (CAPEX) and operating costs (OPEX). JGC's FEED packages put quality at the forefront, and serve as a "bible" to ensure that subsequent EPC work proceeds smoothly.