 The Everlasting Challenge of Opening Up the Oceans
PFLNG2 Project - Malaysia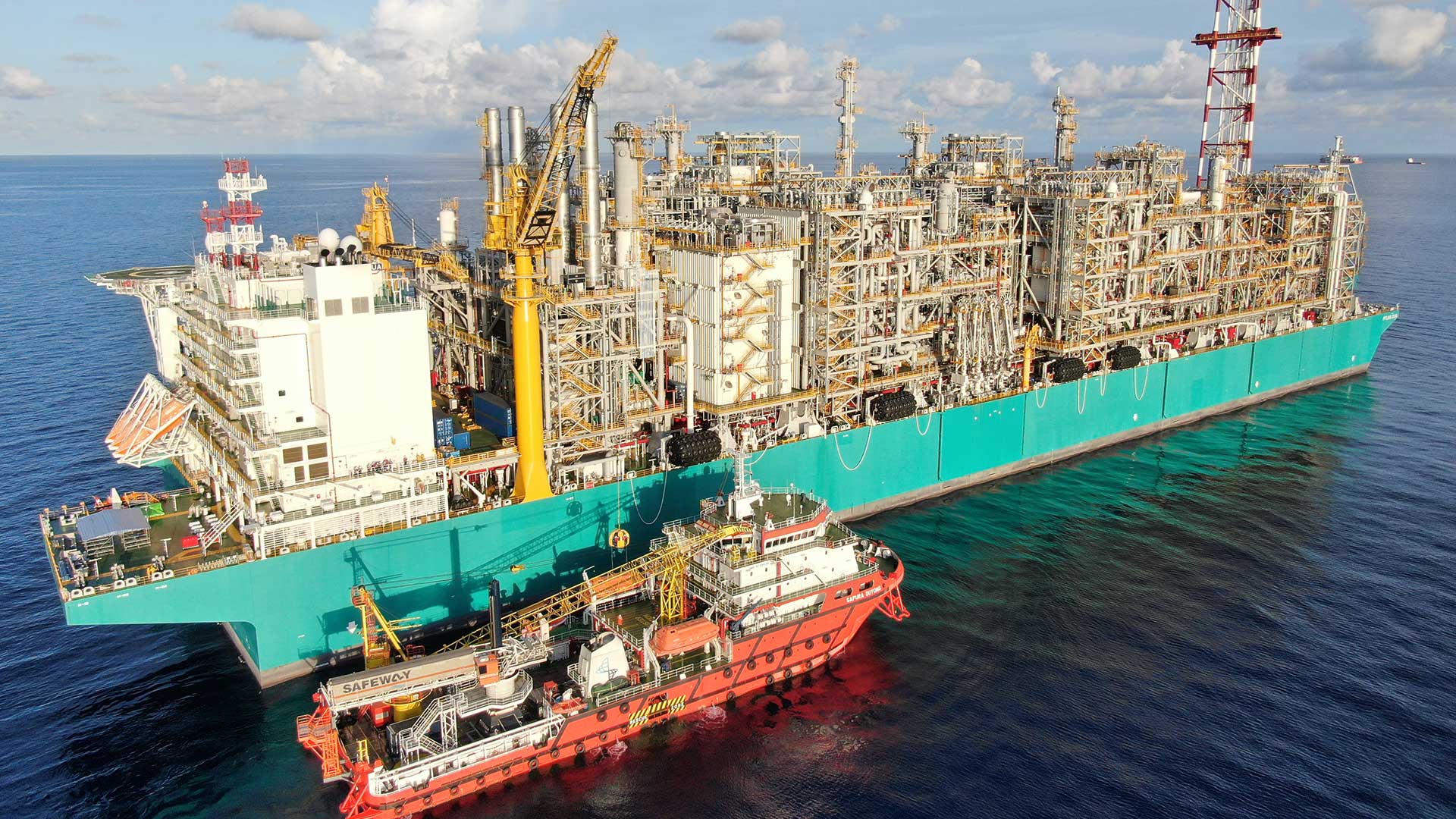 JGC's Contract for a Floating LNG Plant, the First for a Japanese Company
Among the gas fields distributed all over the world, gas fields with small- to medium-size reserves comprise the majority, and furthermore they are mostly in the ocean. Against the backdrop of increasing energy demand centered in developing countries, currently development projects are advancing for small- to medium-scale gas fields in the ocean by state-owned oil companies and major oil companies that were previously not developed or industrialized from the viewpoint of economic efficiency.
PETRONAS, the Malaysian state-owned oil company, is also planning a project to construct the third floating LNG plant in the world with the goal of developing offshore gas fields in the state of Sabah. The floating LNG plant is characterized by its capacity to carry out production and shipping onsite for onboard cooling and liquefaction of natural gas drawn from the bottom of the ocean. Compared to onshore LNG plants where the business ends when the gas fields are exhausted, floating LNG plants have the advantage of being able to move to the next drilling site when drilling has finished at one gas field.
JGC establishes its position as a top contractor for LNG plants, both onshore and floating, has formed a consortium with Samsung Heavy Industries Co. Ltd., South Korea's representative general heavy industries company, and develops active business activities.
PETRONAS comprehensively evaluated JGC's abundant experience in floating LNG plant construction and Samsung Heavy Industries' advanced shipbuilding technology, and in February 2014 JGC succeeded in being awarded the contract for a floating LNG plant construction project, the first for a Japanese company.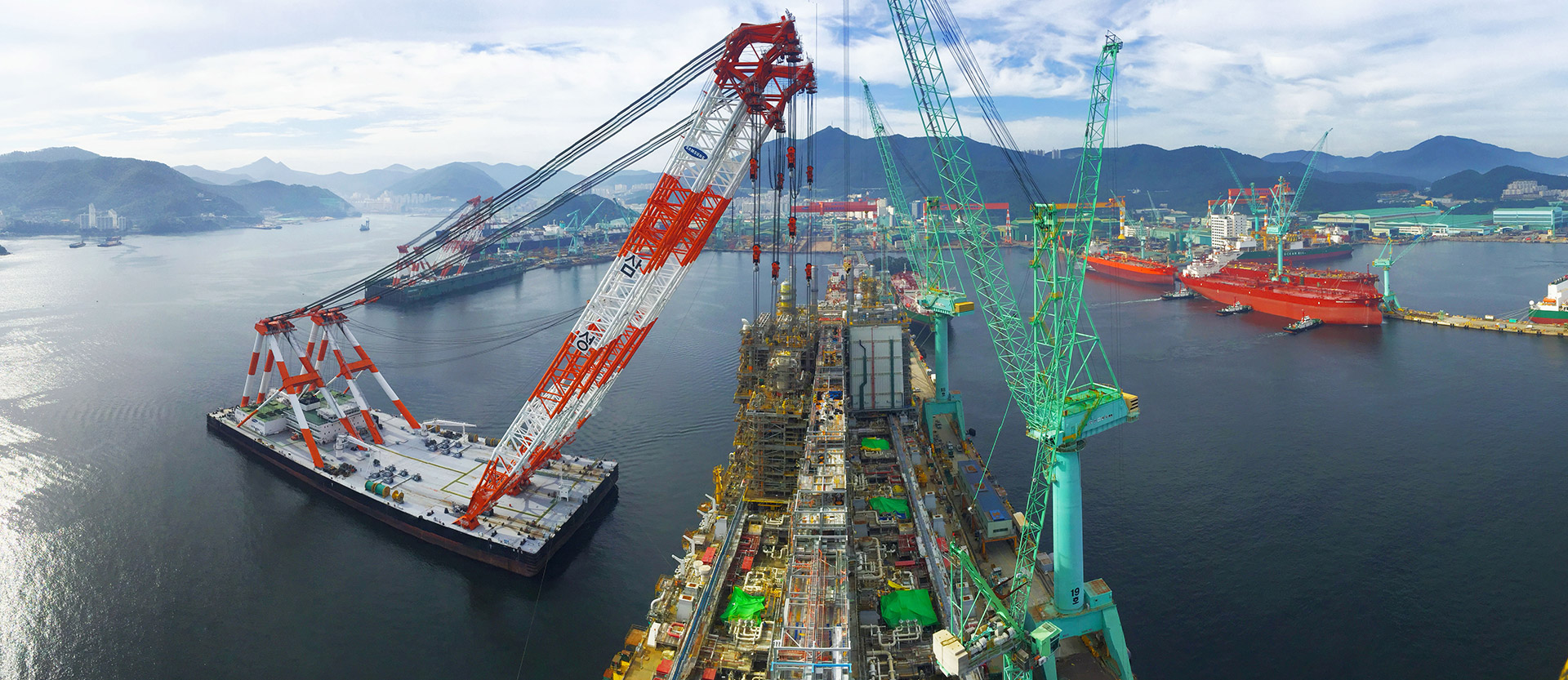 Opening up the Oceans
This project is a pioneering one in the ocean oil and gas world for constructing the world's first floating LNG plant aimed at deep ocean gas fields at depths of over 1,000 meters, and also has an extremely high degree of difficulty from a technical standpoint.
"We repeated the trial and error process close to 10 times that of onshore plants even just for the piping." A JGC engineer working on this project said this, as it was a challenge in a world where past experience did not apply. In this project, most of the equipment was pre-assembled on land in block form, and then the module method was used to integrate them on board. A detailed design was needed that took into account responses to the effects of shaking due to waves and tides that affect floating LNG plants, as well as explosion and fire prevention, for operations to endure in the ocean. Furthermore, in order to advance the module production according to schedule, it was necessary to swiftly transfer design information such as accurate diagrams to Samsung Heavy Industries, which was in charge of production, so quality and speed were both truly needed.
When starting the project, JGC determined that it would not be possible to finish according to schedule if it carried out a design with the same assembly as regular onshore plant construction projects. Accordingly, JGC reviewed its design flow from scratch, made a design for all the departments together, and introduced for the first time the technique of a "Plant Overall Layout Design Tasks" for information-sharing that crossed over department barriers in both the upper and down streams. Each department grasped the situation and changes in the design on time, an efficient design became possible, and JGC realized formulation of a design about half a year faster than for a regular onshore plant.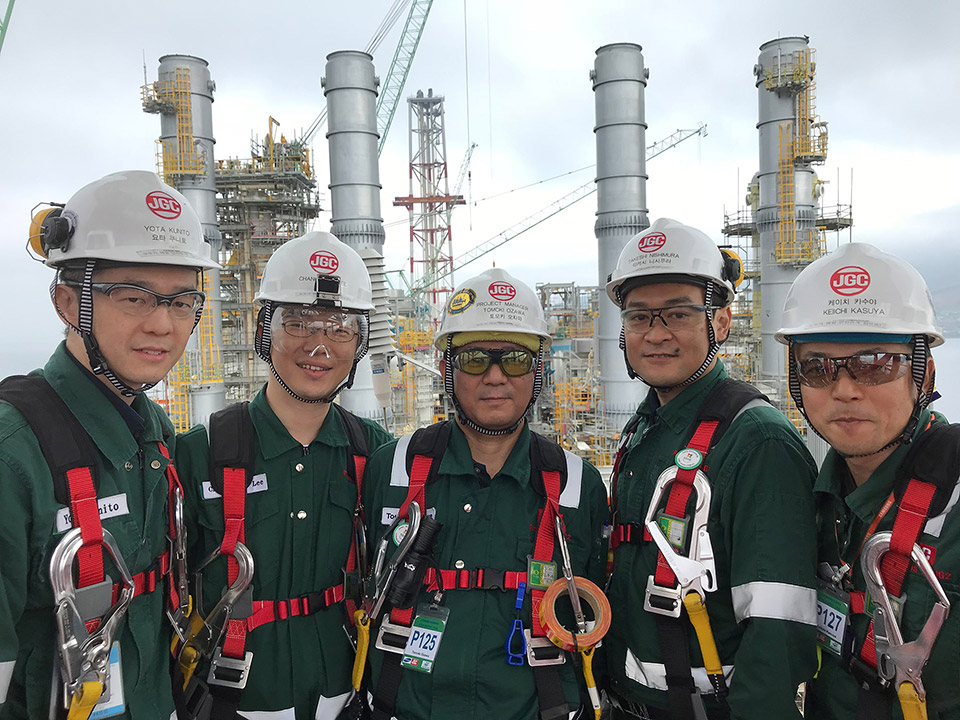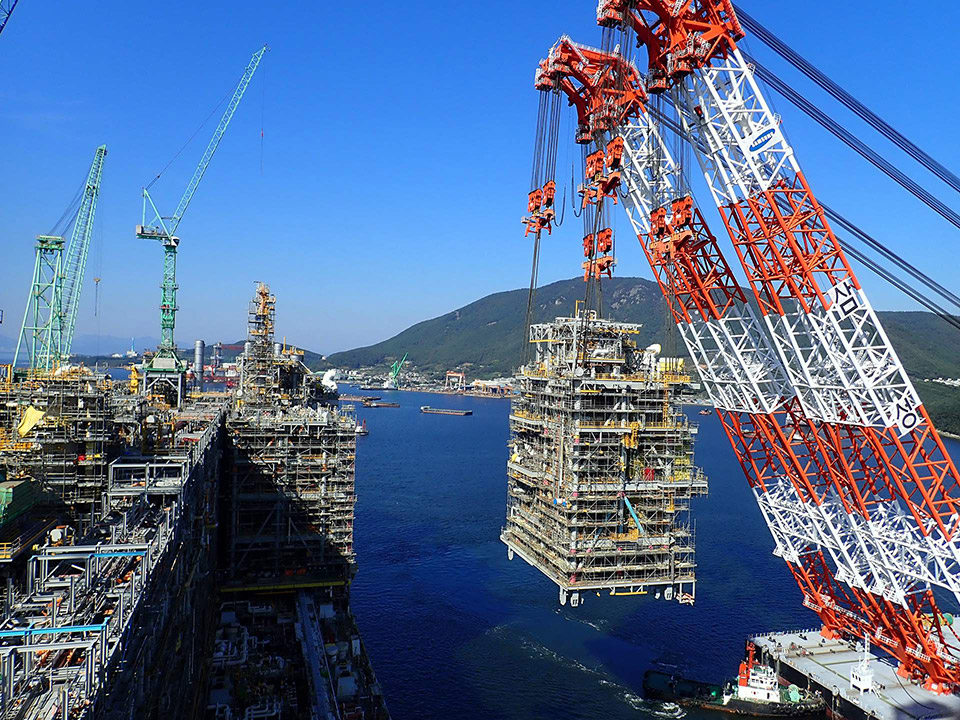 The Challenge Continues in the Floating LNG Plant Field
Construction work is now reaching its peak* toward completion in 2020, and JGC is closely cooperating with its consortium partner Samsung Heavy Industries, and executing the project while continuing its challenge on various aspects.
In June 2017, JGC was also awarded a contract for a coral FLNG project in Mozambique, the first in the Africa region. JGC is executing two out of the four floating LNG plant projects currently being advanced in the world, including plants that are already in operation. While being buffeted by the stormy seas, JGC is continuing its challenge in the ocean as a top contractor in the floating LNG field.
*as of August 2018