Social Contribution Activities
Social Contribution Activities
Environmental Conservation Initiatives
Water Catchment Area Forestation Projects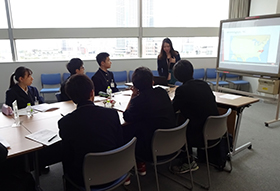 To commemorate its 80th anniversary, JGC became a watershed forest partner in Kanagawa Prefecture's Water Source Conservation Project in August 2008 and launched an environmental conservation project. Since September 2013, we have been making donations to Kanagawa Prefecture as a forest renewal partner in the project.
Through the project, employees of the JGC Group assist with watershed forest conservation while deepening their understanding of the role of watershed forests and the importance of coexisting with nature. Activities are carried out once a month, and more than 200 employees participated in various events, including forest walking tours and aquatic wildlife observation tours, as well as special events held with the president and employees participating. We also continue to put efforts into environmental activities, such as using forestry activities as part of the training for new graduates.
Personnel Training Support
Activities of JGC-S Scholarship Foundation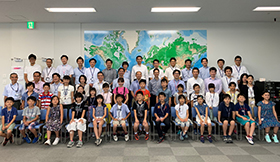 The JGC-S Scholarship foundation was established in March 1968 with an endowment from JGC founder Masao Saneyoshi. Its principal undertakings include the provision of educational loans to Japanese university and graduate students majoring in scientific and technical fields, grants to foreign students studying in Japan, and research funding assistance for young researchers.
Support for Science and Technology
Scientific Experiment Seminars for Elementary School Students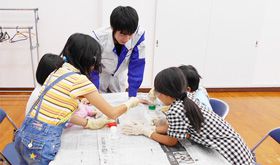 Scientific experiment seminars are held for elementary school students every year at the Kitakyushu office of group company JGC C&C in Fukuoka Prefecture, in order to contribute to and strengthen relations with the local community. These seminars are so popular that the number of attendees exceeds the quota every year.
As a chemicals manufacturer, JGC C&C provides an opportunity for children to deepen their interest in chemistry and find meaning in having an interest for things. Going forward, the company will continue these positive relationships with the local community and its social contribution initiatives.
Contribution to Local Communities
JGC Social Welfare Foundation's Financial Support for Social Welfare Activities
Since its establishment in March, 1994, the JGC Social Welfare Foundation has been subsidizing a great number of social welfare organizations in Kanagawa Prefecture to financially support their social welfare activities for the physically or mentally handicapped and the aged. The subsidized organizations number more than 1,400 including support and volunteer groups, and the total such contributions to date amount to 250 million yen.
Support to the Yokohama City Board of Education for its "Fureai Concert Fostering the Heart" Event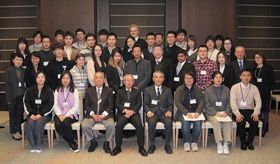 Since fiscal 2011, the Company has lent its support to the Yokohama City Board of Education for its "Fureai Concert - Fostering the Heart" event.
This concert has been held since the 1998 fiscal year for all elementary and compulsory education schools (one class from year 4 to year 6) and the elementary sections of special needs schools, with the goal of sharpening the senses through appreciation of music and fostering the temperament and abilities necessary for a spiritually rich life. During this time about 3,100 children daily come to appreciate the music, a total of about 31,000 children.
Every year there are performances from the Kanagawa Philharmonic Orchestra and organ recitals. The conductor and master of ceremonies give lighthearted and easy-to-understand explanations, so that children, parents, and members of the public can all enjoy the selections played while cultivating their knowledge of music.