Risk Management
Recognizing that appropriate risk management reduces losses and contributes to profits for the Group, we strive to reduce and prevent risks routinely by understanding and organizing risks posed to the Group as a whole and by building, maintaining, and refining our risk management system. If risks do materialize, we respond rapidly and appropriately to minimize the impact and associated loss.
Based on Group Risk Management Committee rules, the JGC Group has established and uses a comprehensive risk management system for a systematic understanding of the risks posed to the Group as a whole. We are committed to further reducing these risks. Management of business risks of the Group is mainly carried out by each operating company, with significant individual risks reported to the holding company board and discussed as necessary.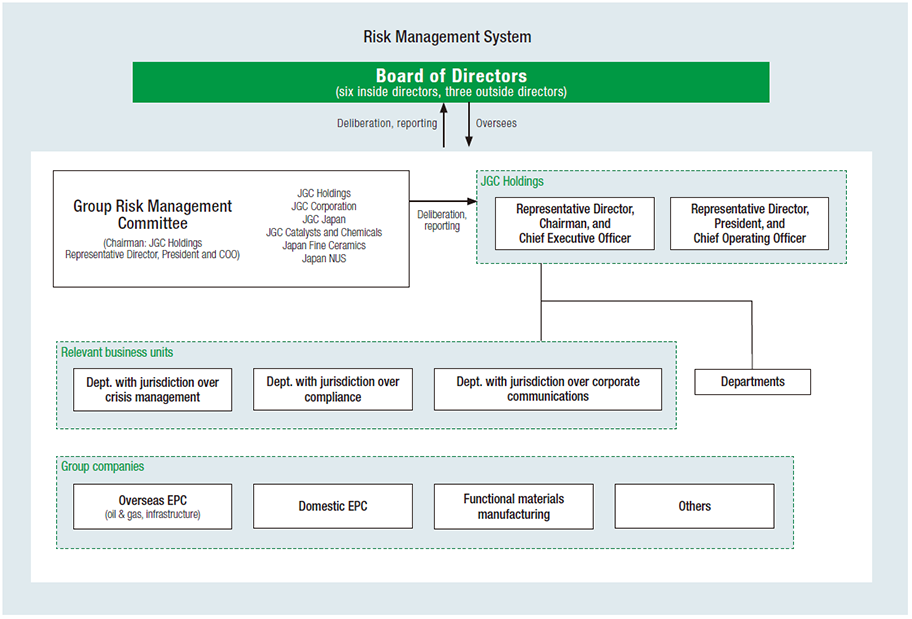 Project Risk Management System
The company is facing circumstances in which the diminishing profits of individual projects, along with their increasing scale, could have a significant impact on the profitability of the entire company.
At the JGC Group we have long fostered a project implementation culture that holds that large-scale projects overseas represent an aggregation of many risks, anappropriate response to which is the essence of project management. With this understanding, all staff involved in a project, not just project and company management, always respond to risks based on a high risk sensitivity in all EPC functions and phases.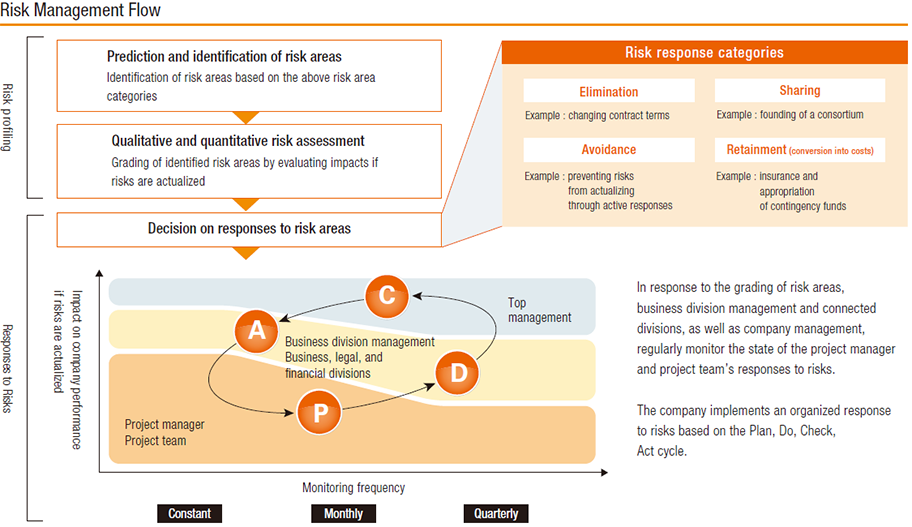 Primary Group Risks and Responses
Primary Risk Area
Nature of Typical Risks
Countermeasures
Risk associated with receiving and executing projects

Change of plans, cancellation, suspension, or postponement of projects in total engineering business after orders are received
Worsening financial conditions of joint venture consortium partners as comprehensive engineering projects are executed

Specific risk analysis by the holding company and operating companies, monitoring of project progress and profitability

Country risk

Impact on business activities from political instability, war, revolution, domestic conflict, terrorism, sudden changes in economic policies or conditions, or economic sanctions

Use of trade insurance
Gathering information on country risk
Setting reasonable contract conditions with clients, addressing force majeure clauses and regulatory changes
Strengthening crisis management functions by the Crisis Management Dept.

Risk associated with natural disasters, epidemics, etc.

Impact on business activities from natural disasters of unforeseen magnitude such as earthquakes, torrential rain, or typhoons, or from global pandemics such as new strains of influenza

Establishing disaster response procedures, introducing systems to confirm safety, and implementing disaster training
Gathering information on risk
Setting reasonable contract conditions with clients, addressing force majeure clauses and regulatory changes

Foreign exchange volatility risk

Impact on sales and profit/loss from sharp fluctuations in foreign exchange rates

Using project contracts denominated in multiple currencies, using overseas procurement
Issuing orders denominated in foreign currencies, using forward foreign-exchange agreements

Risk of construction worker shortages, substantial wage increases

Impact on business activities in total engineering from shortages of construction workers or substantial increases in wages

Monitoring and forecasting trends in the construction industry labor force for primary plant markets
Adopting modular construction techniques to minimize onsite construction
Working with companies that have extensive track records in local construction

Risk of substantial increases in material and equipment costs

Increased procurement costs for material and equipment in total engineering
Substantial rises in prices of raw materials or fuel in functional materials manufacturing

Monitoring and forecasting price trends for raw materials and for materials and equipment
Placing orders for materials and equipment early on
Diversifying suppliers
Passing on higher prices to clients

Investment risk

Loss from unforeseen circumstances in the investment environment

Closer monitoring of existing investment projects
Careful selection of new investments

Legal and regulatory risk

Restrictions under business laws and regulations such as tax or construction laws, various domestic and international environmental laws, import/export trade regulations including those for security purposes, various laws and regulations to prevent corruption such as graft, or business or investment licenses

Developing, implementing, monitoring, and improving compliance programs

Information security risk

Leaks and loss of information from power outages, disasters, failure, loss, or theft of host computers, servers, or network equipment, external attacks, or virus infections

Security measures such as preventing intrusion by establishing information security policies, adopting antivirus measures, and using encryption

Risk associated with quality

Poor quality of supplies or items procured, recall of delivered products due to defects, liability for damages

Promoting quality management system activities by establishing organizations with jurisdiction over quality assurance
Using product liability insurance

Risk associated with changes in the macroeconomic environment

Impact on business activities from declining energy prices or cooling of the global economy
Impact on the oil and gas segment and catalyst segment served by the Group from acceleration of the shift to a lowcarbon society

Diversifying our business portfolio by shifting to a group management structure
Developing technologies to reduce environmental impact
Building value chains in collaboration with other companies that possess advanced technologies