Training System
JGC conducts the training of human resources with advanced technical capabilities and expertise, receptivity to different cultures and diversity, and the mentality required for teamwork by means of a training system based on three approaches: on-the-job training (OJT), off-the-job training (Off-JT), and self-development.
Off-JT (various training) System
We offer a wide range of training programs, such as programs aimed at providing management skills, including leadership skills, to new and mid-career employees and management, as well as programs aimed at providing knowledge and skills such as technical training, language training, and communication/negotiation training.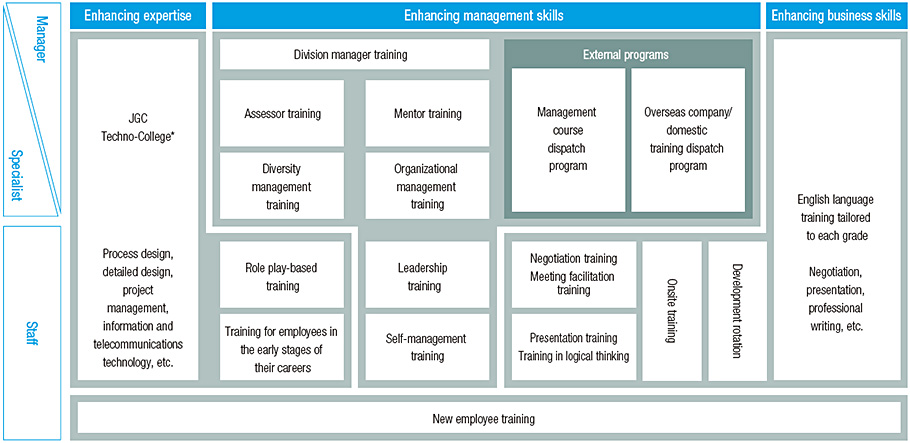 *

Specialty lectures conducted by employee volunteers with the aim of passing on techniques, skills, and experience from senior staff to young staff
Preparing our Employees for Leadership with Six-month Onsite Deployments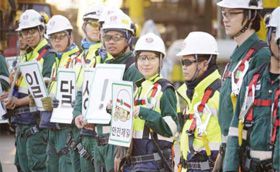 All new employees hired in the main career track are sent to construction sites in Japan and overseas for six months of onsite training. By actually seeing and experiencing the plants that represent JGC's final products and by being involved in the construction phase at an early stage in their careers, our employees gain an understanding of how the engineering documents they will help create at our Head Office are used in the plant construction process. They also experience the weight of responsibility related to ensuring quality and delivering plants to clients on schedule.
At overseas construction sites, people from many different countries often work together at a given time. Clients, vendors of materials and equipment, and subcontractors involved in plant construction each have their own approaches and value systems. Even though our new employees are just starting their JGC careers, they need to display the necessary leadership and teamwork skills to ensure onsite staff work together as a team towards the goal of completing the plant. Experience gained from the onsite training system is invaluable in their future roles around the world.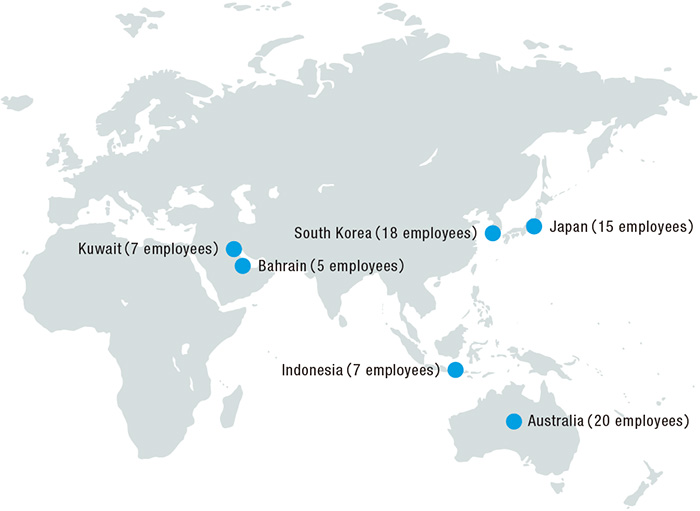 Cultivating the Mentality to Demonstrate Organizational Strength
Building Relationships of Trust Beyond the Boundaries of Departments and Year of Employment
It is essential that a relationship of trust is established between the company and employees, and also among employees, in order for each employee to contribute to the demonstration of organizational strength, both as a member of JGC and as a member of the project team.
As an initiative targeting employees in the early stages of their careers, from fiscal 2018, we launched the JGC Rapport* System to cultivate the independence of such employees, with a view toward promoting lively communication. Groups comprising early-stage employees from different departments who joined the company in different years voluntarily plan and hold various events, such as welcome parties for new employees. We promote the establishment of relationships of trust that cross the barriers of departments and year of employment, by supporting the cultivation of a network of people of the same generation.
*

A term in psychology that means "a close relationship of trust."
Learning Early on How to Optimize Entire Projects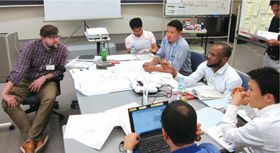 In 2007, we launched a role play-based training course for employees who have been with JGC for four to nine years to give them experience in preparing project estimates and negotiating with clients. During the course, which is mainly a residential program and lasts for four and a half days, small teams are given the task of preparing a project quote and proposal documents to win a hypothetical order within a set timeframe.
The hypothetical projects used in the training are created based on experience from many past estimates and projects implemented by JGC, giving our employees a real feel for actual estimate preparation processes, despite the Off-JT environment. Every member of a JGC project team is required to understand how to optimize entire projects, rather than simply focus on their specific areas. This training is aimed at ensuring employees in the early stages of their JGC careers see the importance of taking a broad perspective, giving them the tools and skills to understand and optimize the bigger picture.