Strengthening Our Suppliers Base
Strengthening Our Suppliers Base
JGC treats suppliers as partners in value creation, working with them to ensure mutual competitiveness and success through optimum quality, cost and delivery. We select suppliers based on a fair and comprehensive assessment of factors, such as quality, price, delivery, and technical capabilities, while also fully taking into account environmental considerations, human rights, health and safety, and information security during this process.
Emphasizing the Importance of Suppliers as Partners in Value Creation
Cooperation with partner companies in countries around the world is essential for plant construction. JGC has created a global supply chain for plant construction thanks to more than half a century of implementing numerous projects overseas. JGC treats suppliers as partners in value creation, working with them to ensure success through optimum quality, cost, and delivery.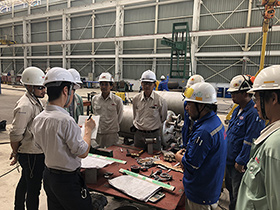 Fostering a Culture of Quality
To ensure the quality of plant facilities - JGC's final products - we have to drive improvements in quality at suppliers in Japan and overseas, which make up our supply chain. To achieve that goal, it is important for our suppliers to take steps based on their own initiative. At JGC, there is no trade-off between quality and factors such as delivery and profit margins. We aim to improve quality while delivering projects on time and maintaining margins. These approaches and initiatives support what we call a culture of quality, and we work hard on an ongoing basis to ensure that culture permeates throughout our supply chain.
JGC Quality Forum
On February 5, 2018, we held the 3rd JGC Quality Forum, which provided partner companies with an opportunity to share the details and outcomes of initiatives aimed at fostering a culture of quality and to learn about new activities for quality enhancement. The forum, which was held at our Yokohama Head Office, featured a lively exchange of opinions between at least 200 participants from 44 client companies and vendors in Japan and overseas.