Promoting procurement in emerging markets
Promoting procurement in emerging markets
Actively Procuring Materials and Equipment from Malaysian Manufacturers
In the construction of the LNG plant in the Bintulu region of Sarawak, Malaysia, we have not only created jobs for many construction workers, but have also contributed to the development of industry surrounding the plant, through active business with local materials suppliers and equipment manufacturers.When placing orders with local manufacturers for equipment that requires a high degree of precision, we dispatch our engineers to the manufacturing plant in order to provide technical assistance, depending on the manufacturing capabilities of local facilities and the skill levels of local engineers, and help them acquire new technologies. Such efforts, which contribute to the growth of Malaysian materials suppliers and equipment manufacturers, have received high praise from Petronas, a state-owned oil & gas company.
Vendor Technical Support Group Activities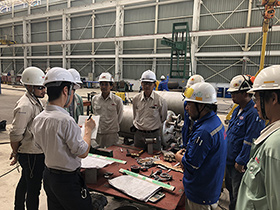 In the Train 9 LNG plant construction project for Petronas that was completed in 2017, we stationed engineers from JGC vendor technical support group at four manufacturers in Malaysia from the start of the project to provide production support for a total of 140 units of equipment weighing 3,000 tons, including towers, vessels, and heat exchangers.
Thanks to the technical assistance provided based on comprehensive judgments made regarding the capabilities of each manufacturer and the difficulty of the ordered equipment, these relatively inexperienced manufacturers succeeded in manufacturing equipment that fulfilled the quality requirements, on schedule. The new track record established through this project will help these manufacturers to obtain equipment orders for other projects. The company views the positive relationships with suppliers that have been achieved as a result of these efforts as valuable business partner assets, and for this reason, actively provides technical assistance to manufacturers.