Construction of plants and facilities in emerging markets
Construction of plants and facilities in emerging markets
Contributing to Development in Algeria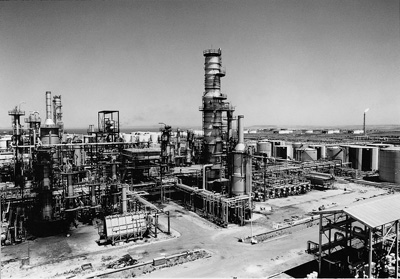 Algeria boasts abundant resources, including crude oil and natural gas, and here, resource exploitation and exportation is the key industry. This business supports the country's economic and industrial development. Starting in 1969 when JGC Group was awarded Arzew Refinery construction by state-owned oil company Sonatrach, the Group has contributed to national development through construction of a variety of energy plants that have formed a cornerstone of industry for nearly 50 years.
Besides creating many jobs for construction workers, this plant construction also contributes to overall plant industry growth, which is driven by our proactive stance on procurement from domestic material and equipment makers.
Contributing to Malaysian Industrial Development

The Bintulu LNG Complex, which is owned by Malaysia's state-owned oil company Petronas, is one of the largest LNG production centers in Asia. The facility currently has nine trains with a combined annual LNG production capacity of roughly 26 million tons. For more than 30 years, starting in the 1980s, JGC has carried out engineering, procurement, construction and commissioning (EPCC) work for all the plant's nine trains, as well as ongoing work to increase capacity and upgrade facilities after completion.
The Bintulu region in Sarawak, Malaysia, where the complex is located, is currently one of the major regions for the oil and gas industry in Malaysia, and the LNG plant which was constructed by JGC has played a central role in the industrial development of this region.