Training and educating engineers in emerging markets
Training and educating engineers in emerging markets
Promoting the Transfer of Technologies
The JGC Group has established Group companies overseas and actively promoted the transfer of technologies to employees of these Group companies through our engineers, and in doing so, has contributed to the development of the engineering industry in the respective countries.
Initiatives at JGC Philippines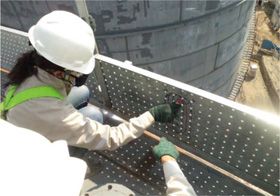 As part of efforts to increase corporate value, JGC Philippines has implemented initiatives on an ongoing basis to enhance the capabilities of its engineers. The company has trained engineers in the latest design technologies through courses at its own offices and JGC's Head Office and given them opportunities to gain project experience and skills through deployments to some of JGC's projects worldwide. Outstanding engineers are actively promoted to division manager positions, as well as senior manager roles, helping to increase motivation and loyalty.
This ongoing program has enhanced the engineering skills of JGC Philippines as an engineering center. The company is now also capable of implementing EPC projects after securing a construction license in the Philippines in 2016 (AAAA category).
Cultivating the Next Generation of Human Resources with Partners in Academia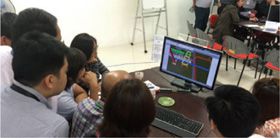 JGC Philippines offers internships as part of its social initiatives. After undergoing training in office and general skills, interns are given practical experience by participating in actual projects while rotating between various departments. The internship program has led to various links with local universities and colleges, giving JGC Philippines the opportunity to contribute to local communities and the development of human resources in the Philippines.
Training Programs for Human Resources in Resource-Producing Countries
Over the past several decades, the JGC Group has conducted various training programs for engineers and students specializing in fields such as chemical engineering from resource-producing countries for the purpose of strengthening relationships with such countries. Many of the participants in these programs have contributed to resource development and industrial development in their own countries after returning home, which has also led to increased business for the company with these countries.