Safety
The Group's high safety record at construction sites in Japan and overseas attests to our constant commitment to safety as a core value shared by all members. Sites in Japan maintain a lost-time incident rate (LTIR)*1 below the industry average for general construction, and overseas sites have outperformed the annual total recordable incident rate (TRIR)*2 of the construction industry outside Japan as reported by CII/CURT.*3
*1

 LTIR, indicating the frequency of lost-time incidents, is a safety benchmark in Japan representing the number of injuries due to workplace accidents per million actual working hours.

*2

 TRIR is an OSHA (Occupational Safety and Health Administration) benchmark metric for the occurrence of workplace accidents (including injuries without lost workdays) representing the frequency of recordable accidents per 200,000 hours.

*3

 Construction Industry Institute (CII) and Construction Users Roundtable (CURT) are U.S. construction industry organizations that compile safety performance of many companies in the U.S. and elsewhere.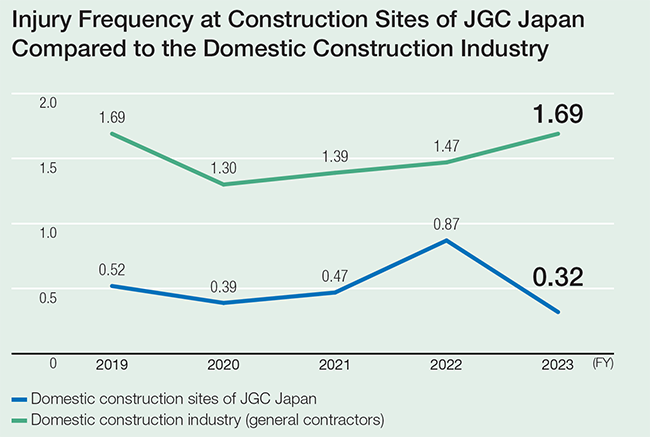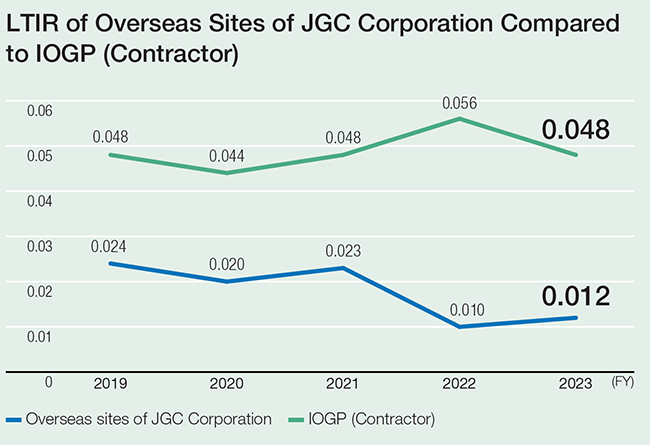 Initiatives to Increase the Awareness of HSSE*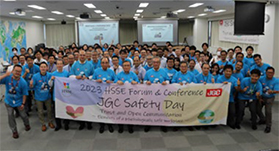 An HSSE Conference hosted by the president is held every year in July as a JGC Group-wide event at the head office in Yokohama. Following an address given by the president, presentations are given on HSSE initiatives in Japan and overseas, and participants engage in impassioned discussions on creating accident-free workplaces that promote the mental and physical health of employees. The conference is streamed live to worksites in Japan and other countries.
The sharing of their HSSE initiatives with head office staff helps to increase the awareness of HSSE-related issues.
*

HSSE:Health, Safety, Security and Environment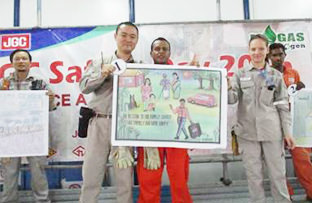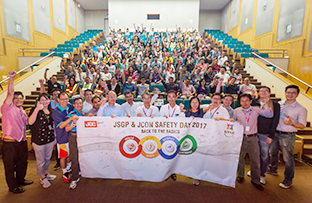 JGC Group has adopted the International Association of Oil and Gas Producers (IOGP) 9 Life-Saving Rules with a strong belief that the rules will help our employees stay safer on our projects.
By adopting the rules, JGC Group is now part of a "common playing field" making it easier for everyone involved. This alignment also supports a smooth integration with our clients who belong to the IOGP. Finally, the adoption of the IOGP 9 Life-Saving Rules also aligns with Our basic principles: "To create safe, secure and healthy workplaces in which all staff can carry out their functions with confidence".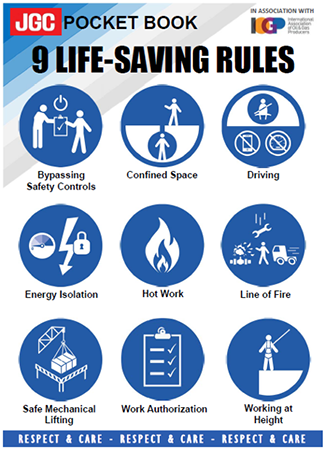 1.

Obtain authorization before overriding or disabling safety controls

2.

Obtain authorization before entering a Confined Space

3.

Follow safe driving rules

4.

Verify isolation and zero energy before work begins

5.

Control flammables and ignition sources

6.

Keep yourself and others out of the line of fire

7.

Plan lifting operations and control the area

8.

Work with a valid permit when required

9.

Protect yourself against a fall when working at height
By equipping employees with basic HSSE knowledge and skills, we have created an environment that fosters and shares a safety culture and helps all employees understand the importance of HSSE on construction sites. Prior to mobilization to any of our domestic or overseas projects, all employees participate in three days of intensive HSSE training.
In providing this growth and development opportunity in basic HSSE knowledge and skills, we immediately start creating a strong and common safety culture and an environment in which all employees understand the importance we place upon HSSE on our projects. This includes an overview of the relevant construction site and a thorough appreciation of 9 Life-Saving Rules that must be complied with.
For high-risk work activities, such as heavy lifting operations and working at height, we also offer specialized safety training programs for specific employees. This helps us to assess their level of competency and ensures we have the right employees suitably trained, assessed and fully prepared to safely execute any high-risk work safely and effectively.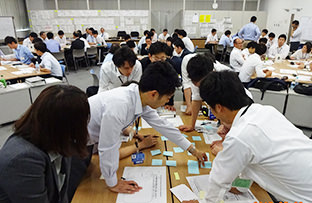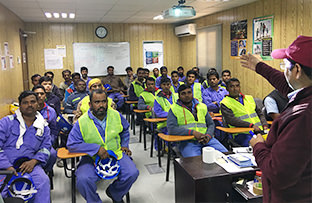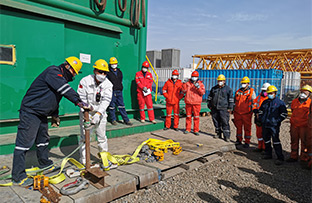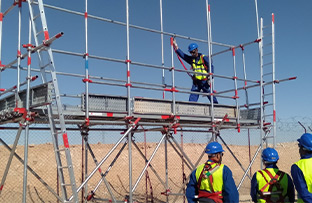 We have also developed a new Virtual Reality (VR) safety learning experience where employees undergo a worksite safety incident. During different scenarios, employees learn how to identify different safety control measures to be able to work in a safe environment. Our VR safety training system provides a wide range of visual and auditory sensory stimulation as well as vibration, wind pressure and simulated crashes, all at the same time. This makes this training more realistic than ever and has shown a more comprehensive and effective learning experience for our employees.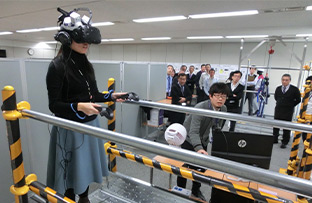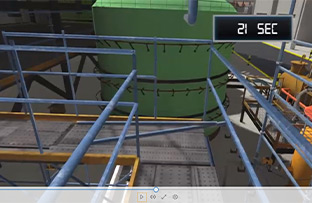 Worksite Safety Initiatives
At overseas construction sites, tens of thousands of multinational workers work at a project site during peak time. To ensure that they are engaged in safe work daily and return home safely to their families, our site management share safety values with the workers by proactively delivering safety messages during the morning toolbox meeting.
In addition, various safety demonstrations are conducted at each site to help workers understanding the importance of safety and We strives to foster a safety culture at work sites.
At domestic construction sites the Care Program Approach (CPA) has been introduced to prevent occupational incidents among unskilled workers. Individual care programs are developed when mobilized to the site, and periodical training is provided, paired with a designated skilled worker and coached by a skilled worker to complement the lack of experience and improve safety awareness.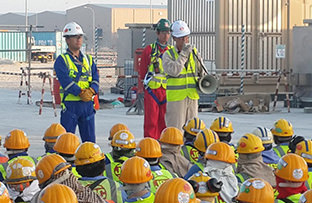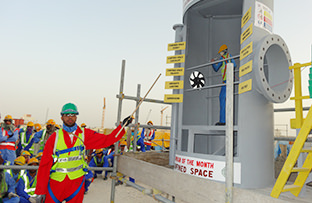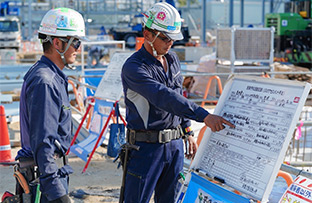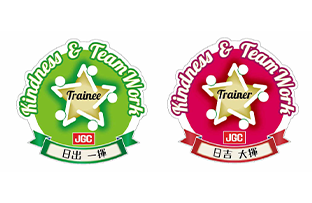 JGC Group has established six lagging indicators and four leading indicators to measure HSSE performance at its overseas construction sites. We continue to monitor whether the requirements are being effectively implemented to achieve our HSSE targets. These KPI(key performance indicators) help align with our determination to be recognized as the benchmark for health and safety in our industry.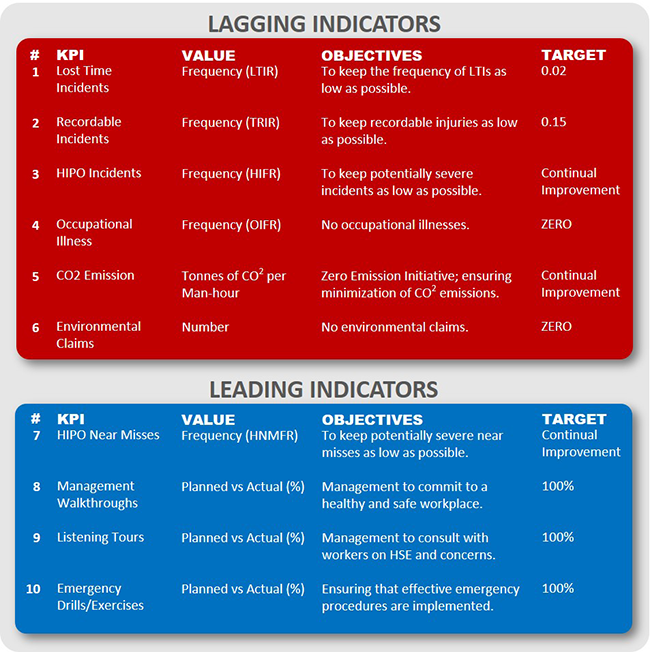 JGC Group has received numerous awards for its excellent HSSE practices at construction sites in Japan and abroad.