Safety
As a result of continuous implementation of Group-wide health and safety improvement measures, we have maintained safety levels that exceed those of other companies in the same industry, as can be seen in the two graphs below.
The annual Total Recordable Injury Rate (TRIR*1) of our overseas projects has trended at around the 0.17 mark over the last five years (2013~2017), giving us one of the best safety track records of companies in the same industry in Japan and overseas.
According to the occupational injury frequency rate*2 method used in Japan (the International Labour Organization [ILO] method), our domestic projects have remained at around the 0.58 level over the last five years (2014~2018), lower than the average rate for the domestic construction industry (0.87).
*1

 TRIR is a benchmark of the frequency of occupational injuries developed by OSHA in the United States. It is calculated as the number of recordable injuries, which includes injuries not requiring time away from work, per 200,000 work hours.

*2

 The occupational injury frequency rate (ILO method) is a benchmark indicating the frequency of work-related accidents based on the number of lost workday injuries and facilities per million work hours (frequency rate of lost work day case).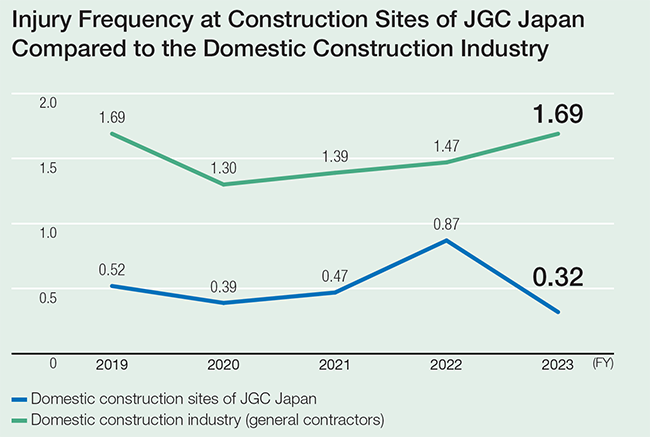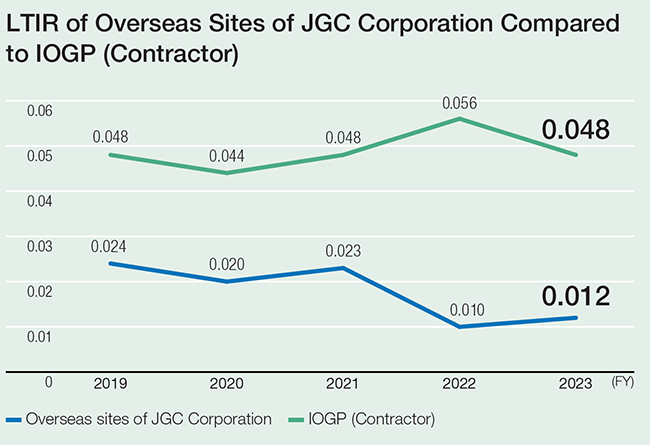 Initiatives to Increase the Awareness of HSSE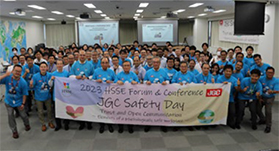 An HSSE Conference hosted by the president is held every year in July as a JGC Group-wide event at the head office in Yokohama. Following an address given by the president, presentations are given on HSSE initiatives in Japan and overseas, and participants engage in impassioned discussions on creating accident-free workplaces that promote the mental and physical health of employees. The conference is streamed live to worksites in Japan and other countries.
The sharing of their HSSE initiatives with head office staff helps to increase the awareness of HSSE-related issues.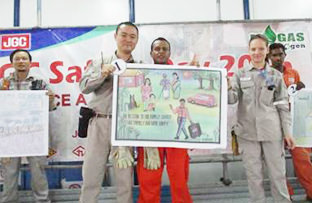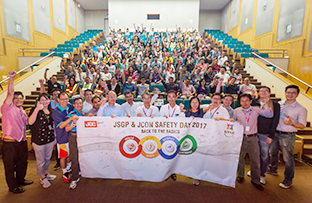 Ensuring one's own safety is a fundamental tenet, making it essential to understand what is safe and what is not. Before being posted to a worksite for the first time, all JGC employees undergo three days of HSE (Health, Safety, and Environment) education. By providing them with this opportunity to acquire basic knowledge on HSE, we create an environment in which all employees can manage HSE-related items from the time they are posted.
At construction sites in Japan and overseas, orientation sessions are held for newcomers regarding an overview of the entire construction site and the safety rules that need to be observed. Specialized education programs are also offered to those engaging in high-risk work, in which clear and thorough guidance is provided according to the employee's experience and skills.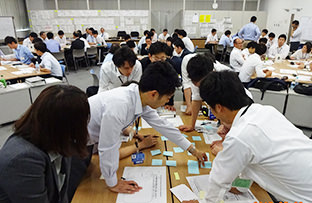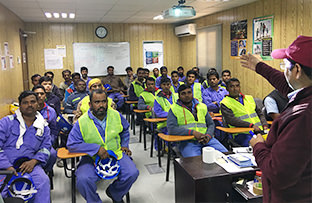 Worksite Safety Initiatives
When construction work reaches its peak, roughly 30,000 people of a wide range of nationalities work at each construction site overseas. To enable them to engage in safe practices each day and return to their families without incident, we seek to deeply instill in workers an understanding of the importance of work safety by passionately and proactively sharing safety messages at morning safety meetings, under the strong leadership of site managers.
Each worksite works to deepen understanding and foster a safe worksite culture by devising and conducting their own original safety demonstrations, etc. to give workers easy-to-understand visual explanations of construction safety.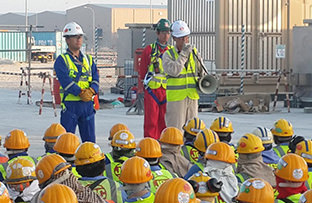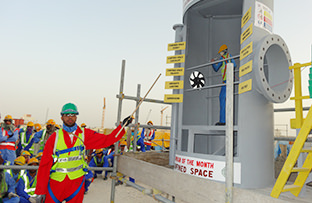 We will introduce some of the awards that we have received from our clients.
Barzan Onshore Project (Qatar Petroleum, 2013, 2016)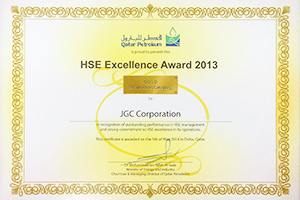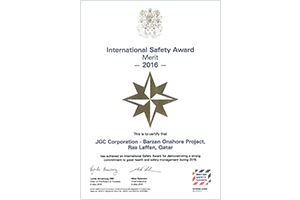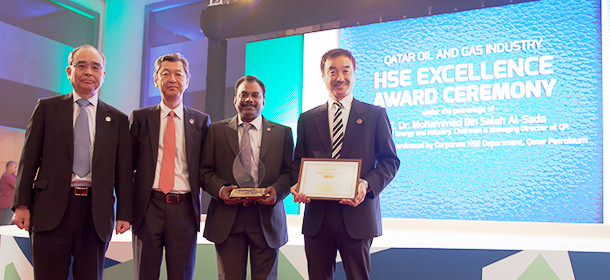 Train 9 Project (Petronas, 2015)