Dialogue with Shareholders and Investors
Dialogue with Shareholders and Investors
The Group considers shareholder and investor engagement indispensable to sustained growth and gains in corporate value. We are proactive in highly transparent information disclosure that serves as the basis for this dialogue. By listening to shareholders` and investors` opinions, providing feedback to management and relevant departments, acting on this knowledge in management strategies, and striving to disclose not only financial but also non-financial information, we are creating an environment in which shareholders have a solid, long-term understanding of Group management policies.
Main IR Activities (Fiscal 2019)
Dialog on Adopting a Holding Company Structure
We have actively engaged in dialogue to encourage an in-depth understanding among investors regarding the aims and objectives of moving to a holding company structure, which took effect on October 1, 2019. Our aims and objectives in adopting a holding company structure were carefully explained to investors through senior management and the IR Department. Not only did this ensure that the Group vision for growth was clear, it also gave us a better understanding of investor expectations, from the variety of feedback we received.
Enhancements to the JGC Report (Integrated Report)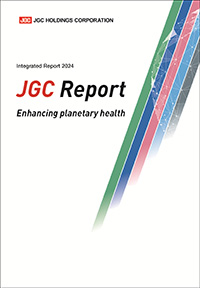 Each year, JGC Report is designed to be more informative, as a key disclosure resource for investment decisions from a long-term perspective. JGC Report 2019 featured fuller information on the message from top management, project risk management system, and our adoption of a holding company structure, as well as expanded content on non-financial matters such as process to identify materiality, a key ESG topic. The report was selected as the "Most Improved Integrated Report" of 2019 by the domestic asset management arm of the Government Pension Investment Fund (GPIF).s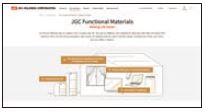 Enhanced information disclosure for shareholders and investors is also sought online, through a more informative corporate website.
We are committed to keeping shareholders, investors, and an array of other stakeholders informed through developing or updating webpages related to functional materials manufacturing and sustainability, among other topics.