IIF (Incident and Injury Free) Activities
IIF (Incident and Injury Free) Activities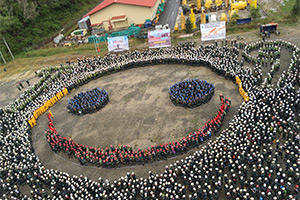 The Incident and Injury Free® (IIF®) program is based on the idea of workers watching out for each other and ensuring that everyone involved in a construction project is able to return home safety without incident. Safety is not something that is enforced, but a conscious decision made by each person involved in a project. By working to improve safety awareness, we foster a culture of safety throughout the whole corporate group. Everyone, from our managers in change of a construction site to the workers at the site, play a vital role in ensuring the safety of all of those involved.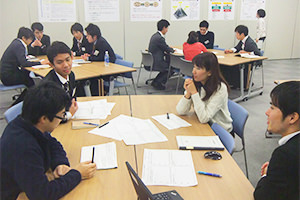 JGC employees are stationed at construction sites in Japan and overseas from their first year working at the company. Once they arrive at the sites, even junior employees are considered valuable assets and are assigned duties that entail responsibility. Strong leadership is essential when issuing orders to hundreds or thousands of workers.
With the aim of nurturing personnel who are able to understand and exercise leadership, JGC provides education covering areas such as improving communication skills, building personal relationships to achieve objectives, and leadership theory.
After returning to Japan from their overseas assignments, employees take courses reviewing leadership-related issues. They are able to identify issues they need to reflect on, and they can use this knowledge to enhance their future work performance.
Worksite IIF Activities
We carry out a wide range of activities with the aim of providing safe and secure work environments for workers at JGC construction sites.