Ecosystem Conservation Around Construction Sites
Ecosystem Conservation Around Construction Sites
The JGC Group pays careful attention to protecting the natural environments surrounding construction sites and preventing the leakage of pollutants when conducting construction projects for various facilities and equipment in regions around the world.
Targeting Zero Leaks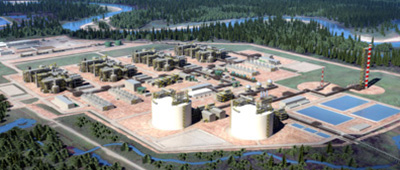 JGC takes into account environmental considerations in every phase of plant and facility construction projects implemented by the Group in different fields around the world. At overseas construction sites, which are more difficult to manage than sites in Japan, all employees share and implement a rigorous approach to site management to prevent any leaks of contaminants. Our employees, as well as people working for construction subcontractors, undergo training to encourage a deeper understanding of this management approach. On some projects, several thousand onsite personnel participate in the training program.