Compliance
Guided by our corporate philosophy, the JGC Way, the JGC Group has positioned compliance as the cornerstone of management, based on two keywords in its list of shared values - Respect and Integrity.
As a member of the international community, the JGC Group believes that compliance with the laws of Japan and all other countries where the Group operates, as well as fair and equitable business practices in accordance with corporate ethics, are essential to the pursuit of sustainable business development. Based on this belief, the Group has developed the JGC Group Code of Business Conduct. The code, which must be followed by all employees, contains key points to ensure that the JGC Group's corporate philosophy is implemented in practice.
Establishing the JGC Group Code of Business Conduct
Although the company formulated the Code of Business Conduct in 2002, since then the demands of society towards compliance efforts required of companies have become more diverse and in-depth. In April 2018, the JGC Group revised the previous Code of Business Conduct in response to these changes in social conditions, and established the new JGC Group Code of Business Conduct in order to make its contents more comprehensive and concrete.
This JGC Group Code of Business Conduct specifically indicates the standards for actions and decisions that we should follow, as we put our corporate philosophy, the JGC Way, into practice.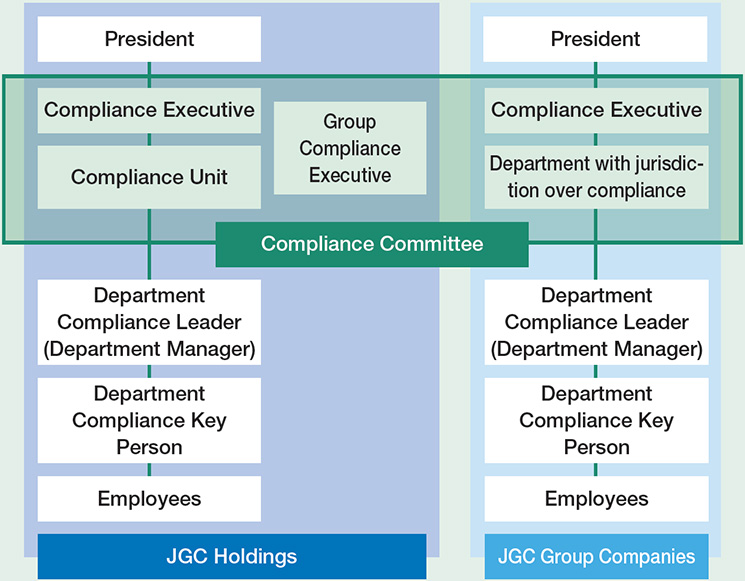 The JGC Group has established a Group compliance system that ensures business activities conform to the highest ethical principles at all Group companies. Each Group company has appointed compliance officers, creating a single contact point for compliance issues in order to improve the effectiveness of compliance activities. The compliance officers are responsible for evaluating compliance risks specific to their companies and develop and implement compliance measures tailored to those risks. Compliance officers from across the Group regularly meet to share information and promote closer cooperation, while also working to develop systems and implement measures that raise awareness about compliance issues.
In fiscal 2017 compliance officers from domestic and overseas Group companies gathered at our Head Office and in Singapore (JGC SINGAPORE PTE LTD) to attend Group Compliance Conferences. The conferences featured lively discussions about the issues and risks faced by each company, as well as ideas about effective measures to resolve and mitigate risks and issues.
The Key Compliance Personnel Program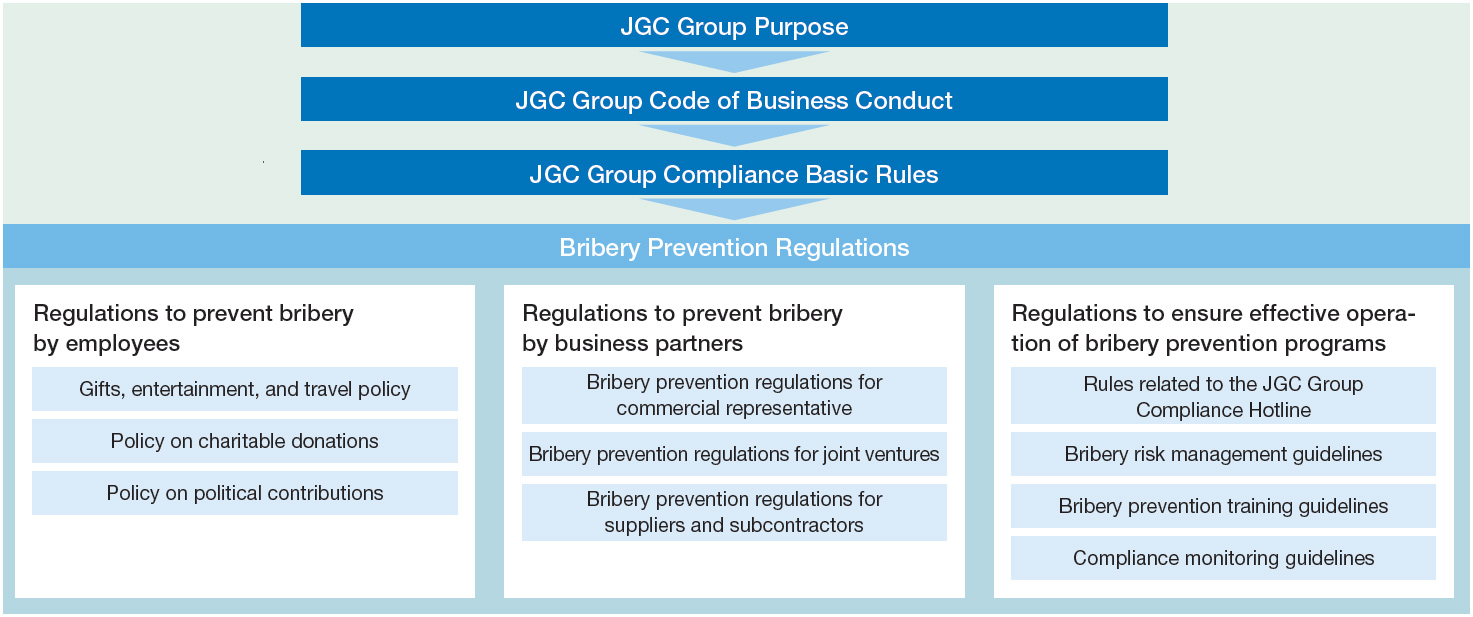 Since the beginning of fiscal 2017, we have deployed key compliance personnel to each department for the purpose of promoting mutual communication between the JGC Compliance Office and our employees, in order to foster an awareness of compliance. During fiscal 2017, we held activities led by these key compliance personnel to check the knowledge and compliance awareness in each department, and to provide feedback from the JGC Compliance Office regarding questions and opinions received from employees in this process. These key compliance personnel have also led activities such as making posters with managers of all departments at the company pledging to observe compliance, as well as displaying these posters in common areas within the company.
Measures to Prevent Bribery
JGC works to ensure fair business practices, in line with its basic policy of complying with all anti-bribery rules and regulations, such as provisions in Japan's Unfair Competition Prevention Law prohibiting the bribing of foreign public officials, the US Foreign Corrupt Practices Act (FCPA) and the UK Bribery Act 2010.
The table below shows the JGC Group's regulations and programs related to preventing bribery, based on provisions in the JGC Group's corporate philosophy and Code of Business Conduct.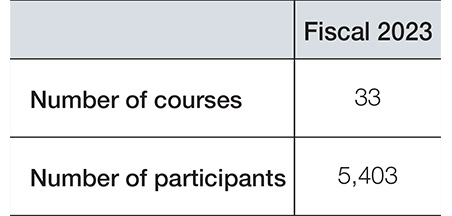 Preventing Bribery by Suppliers and Subcontractors
JGC requires all suppliers and subcontractors to comply with rules and regulations prohibiting bribery. Before starting a business relationship with a company, JGC assesses the company's links with public officials and evaluates its governance and compliance systems. Business partners are also required to sign declarations or business contracts agreeing to JGC's anti-bribery policy and stating a commitment that they will not engage in bribery. In cases where the risk of bribery is deemed to be high, JGC conducts a further round of rigorous due diligence and only decides to begin a business relationship if all concerns have been completely eliminated.
Initiatives in Regions with a High Risk of Bribery
JGC addresses risks specific to each project, conducting assessments at the bidding stage to identify the risk of bribery in the order and implementation phases of each project. For projects in regions with a high risk of bribery, the JGC Compliance Office takes a rigorous approach, visiting construction sites midway through project implementation to conduct intensive monitoring, evaluate efforts to prevent bribery and recommend any necessary improvements.
Number of EPC Projects Under Way, Order Backlog in Countries Ranked in Bottom 20 in Corruption Perceptions Index
(FY)

| | 2013 | 2014 | 2015 | 2016 | 2017 |
| --- | --- | --- | --- | --- | --- |
| Number of EPC projects under way | 2 | 2 | 2 | 1 | 1 |
| Outstanding contracts (100 millions of yen) | 313 | 277 | 241 | 234 | 231 |
JGC conducts compliance training programs tailored to different employee grades and topics in order to raise compliance awareness.
Objectives and Number of Participants (Course Completion Rate) for Employee Grades-based Training
(FY)

Objective
2013
2014
2015
2016
2017
New employees
(April and October)
Acquire essential knowledge about compliance as a member of society and learn about JGC's compliance systems
86
(100 %)
95
(100 %)
105
(100 %)
67
(100 %)
81
(100 %)
Basic compliance training
Acquire fundamental understanding of compliance, learn about global trends and understand issues related to compliance during project implementation
-
-
48
(8 %)
117
(27 %)
80
(40 %)
Intermediate compliance training
Acquire compliance knowledge needed for managerial positions and consider corporate ethics issues
44
(51 %)
84
(53 %)
46
(54 %)
67
(62 %)
21
(74 %)
High-level compliance training
Understand the role senior managers need to play to foster ethical corporate behavior and rigorous compliance
21
(74 %)
78
(73 %)
19
(80 %)
13
(84 %)

20
(89 %)
*

The low course completion rate for basic compliance training is mainly due to the relatively recent start of the course (fiscal 2015). JGC aims to improve the completion rate by continuing to implement the course.
In addition to grade-based training, JGC runs topic-based training targeting specific areas of compliance, such as bribery, anti-social forces, anti-monopoly law and business ethics for engineers. These courses are designed for specific employee groups and are run intensively at certain times to achieve the greatest impact. They typically pinpoint key topics, such as risk areas identified in internal compliance awareness surveys or risk assessments, or issues raised by corporate scandals in the news.
Courses are led by employees with in-depth experience in each field or by external experts. The hybrid programs of lectures, workshops and case study methods ensure thorough learning and long-term awareness of each topic.
In addition, in fiscal 2017, harassment workshops were held for multiple departments and three Group companies, further strengthening internal training initiatives.
Number of Topic-Based Training Courses and Participants
(FY)

| | 2013 | 2014 | 2015 | 2016 | 2017 |
| --- | --- | --- | --- | --- | --- |
| Number of courses | 8 | 8 | 19 | 14 | 13 |
| Participants | 220 | 312 | 600 | 434 | 418 |
JGC Group Compliance Hotline

We have established the JGC Group Compliance Hotline to help rapidly identify, mitigate and prevent compliance risks. The hotline allows employees to seek advice or report any concerns related to compliance violations or activities that may constitute a violation of compliance rules. Any reports or requests for advice about violations are investigated thoroughly and appropriate responses or feedback are implemented and provided on a timely basis.
Extreme care is taken to ensure whistleblowers do not suffer detrimental treatment.
The JGC Group Compliance Hotline has two contact points - one internal (English language) and one external (Japanese language).
The former is run by the Compliance Department and the latter by a third-party organization that specializes in whistleblower reporting. Employees can report concerns anonymously by phone or email.
Number of Reports Received by Hotlines
(FY)

| 2013 | 2014 | 2015 | 2016 | 2017 |
| --- | --- | --- | --- | --- |
| 2 | 3 | 5 | 12 | 18 |