Construction of Renewable Energy Plants
Construction of Renewable Energy Plants
Contributions to the Expanded Use of Renewable Energy
The JGC Group has been involved in the construction of 23 solar power plants in Japan and the rest of the world, including projects still under way. The combined output of the plants is nearly 800 MW, or enough to power roughly 260,000 households for one year. JGC is one of the most experienced contractors in Japan's solar power plant construction market. In addition to construction work, the JGC Group provides plant operation and maintenance services and is involved in solar power plant operation helping to spur wider uptake of solar power in Japan through its involvement in various phases of solar power businesses. Leveraging our wealth of experience in solar power plant construction and operation in Japan, we are also working with JGC subsidiaries around the world to actively target solar power plant construction projects overseas. In Vietnam we completed a mega-solar power plant construction in December 2018 and two more in June 2019, and have built up a track record of power plants providing the energy equivalent to the annual consumption of 130,000 general households there.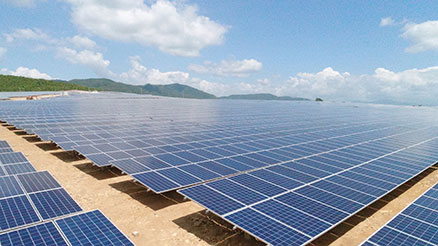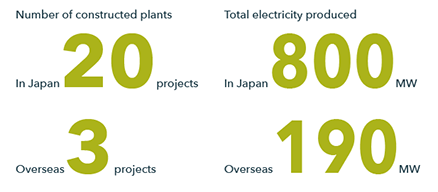 Solar Power Plant Construction in Vietnam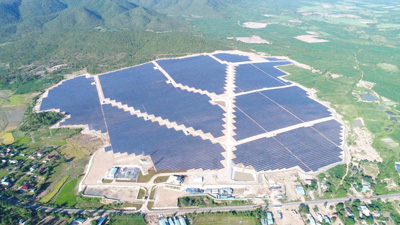 To meet rising energy demand from the country's growing population while protecting the environment, Vietnam is promoting expanded use of renewable energy. In 2018 the Group was awarded construction of three large-scale solar power plants here. Each was completed successfully, applying ample experience from some of Japan's largest solar installations. In generation capacity, our record of solar plant construction in Vietnam has reached nearly 190 megawatts (DC), which provides power equivalent to the annual consumption of about 130,000 households.
Sponsorship of Yokohama City's "Hama Wing (Wind-power Plant)" Business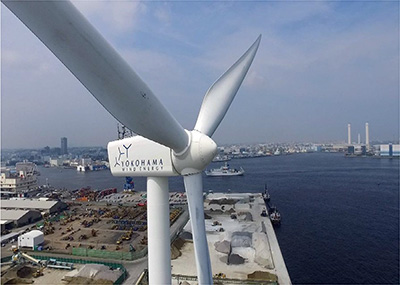 As part of its efforts to help realize a sustainable society, JGC JAPAN Corporation has agreed to become a "Y (Yokohama) - Green Partner" in the role of sponsor for the wind power generation support business promoted by the city of Yokohama, which aims to promote the introduction of renewable energy.
The JGC Group will continue to cooperate with the stakeholders involved in contributing to the reduction of environmental impacts throughout the value chain.