Energy Transition - Gas/Oil/Chemicals

The World's Most Advanced Energy-saving Condensate Desulfurization Process (JUSTTM Condensate)
The World's Most Advanced Energy-saving Condensate Desulfurization Process (JUSTTM Condensate)
Condensate is produced in gas fields and contains mainly fractions of naphtha, which is used as a raw material for chemicals, as well as for jet fuel and diesel oil, which are indispensable as transportation fuels. In conventional processes, desulfurization of condensate has been carried out by installing separate desulfurization units for each fraction.
Our JUSTTM Condensate process produces sulfur-free condensate by means of a single desulfurization unit. In comparison with the conventional process, the JUSTTM Condensate process achieves not only the cutting of construction costs by about 30%, but also the reduction of operating costs by about 50% through reduced utilities' consumption, mainly fuel. Also, as a result, a significant reduction in greenhouse gas emissions can be achieved. The JUSTTM Condensate process is the world's most advanced energy-saving condensate desulfurization process.
In the JUSTTM Condensate process, condensate is first desulfurized in a JUSTTM Reactor filled with a customized HDS catalyst, and then the sulfur-free condensate is divided into product fractions by the downstream Advanced Fractionator system, which is the key to reducing energy consumption. A scheme comparison between the typical existing process and the JUSTTM Condensate process is shown in the following figure.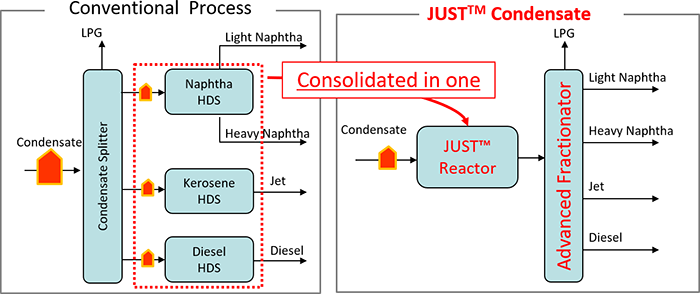 The JUSTTM Condensate process is a simple desulfurization unit and the distillation system is integrated as an Advanced Fractionator system. The JUSTTM Condensate process is one of the world's most energy saving condensate desulfurization processes, contributing to a significant reduction in greenhouse gas emissions by reducing the consumption of fuel and other utilities compared to conventional processes with multiple desulfurization units.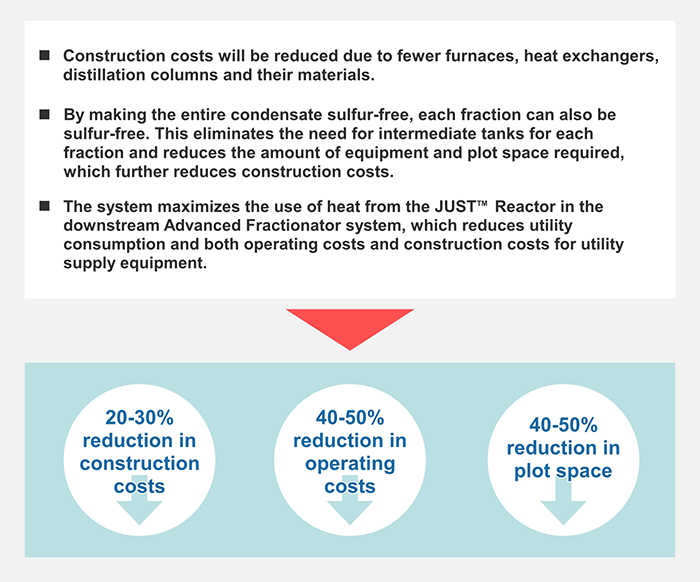 We have a pilot facility in our Research & Development Center, shown in the figure. Based on the results of the pilot testing, and using the design manual produced through the development work at this facility, we have designed and constructed several commercial desulfurization plants. In the pilot test, we succeeded in making condensate sulfur-free using a Middle East condensate, which has a relatively high sulfur content among the condensates produced in the world. The untreated condensate shown on the left side of the photo contains a great deal of sulfur compounds such as mercaptans in the order of several thousand ppm, making it muddy. However, the treated condensate on the right side of the photo has sulfur content reduced to less than 0.5 wtppm for naphtha, which is sufficient to be used as a raw material for petrochemicals, and less than 10 wtppm for diesel oil, which is equivalent to Euro 5 specification, resulting in a transparent color.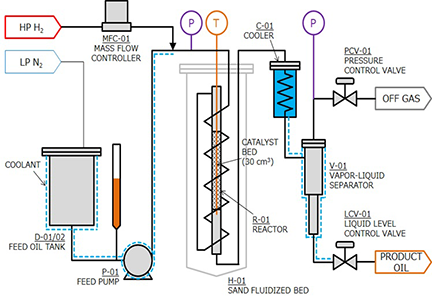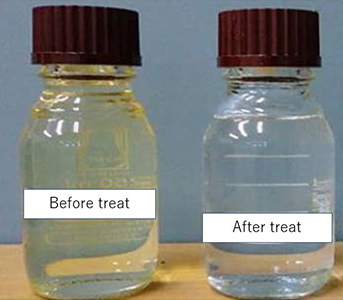 Energy Transition - Gas/Oil/Chemicals