Energy Transition - Gas/Oil/Chemicals

High-Purity Hydrogen Sulfide Production Process
High-Purity Hydrogen Sulfide Production Process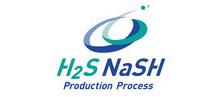 Hydrogen Sulfide (H2S) is widely used as raw material for synthesis of a number of sulfur-containing compounds.
JGC hydrogen sulfide production process produces high-purity (≧99.9 %) H2S by the reaction of hydrogen and sulfur. The production plant is compact and ensures easy and safe operation for the production of highly toxic hydrogen sulfide.
High-purity sodium hydrosulfide (NaSH aqueous solution) is also easily produced by the reaction between hydrogen sulfide and sodium hydroxide.
Schematic Flow Diagram of Production Units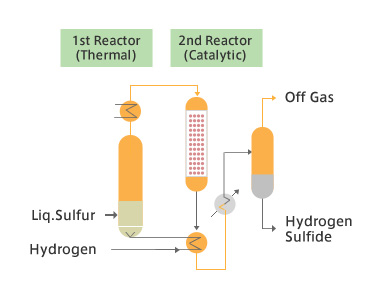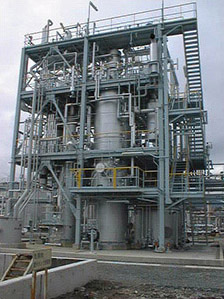 High-purity products
Compact and economical production plants
Lower cost and better safety than purchasing H2S
High-performance and long-life catalyst for 2nd reactor
Engineering plastic (PPS)
Amino acid (methionine)
Non-ferrous metal refining
Pharmaceuticals
Cosmetics
Hydrogen sulfide production : 2+1 (design in progress) units
Sodium hydrosulfide production : 4+1 (design in progress) units
Technology Award of The Japan Petroleum Institute (2000)
Energy Transition - Gas/Oil/Chemicals