Energy Transition - O&M/Other Services

Flow Simulation Technology
Flow Simulation Technology
CFD (Computational Fluid Dynamics) is a powerful tool for analyzing the phenomena associated with the fluid flows in a variety of industrial fields. Thanks to the utilization of this powerful tool, JGC is able to carry out optimum designs, quick and rational scale-up of various types of industrial equipment and apparatus. At the same time, these CFD technologies are well integrated with the reliable technical know-how and expertise supported by the abundant experience of CFD application in the field of plant engineering.
Furnace
Gas-Liquid Separator

VOC Evaporation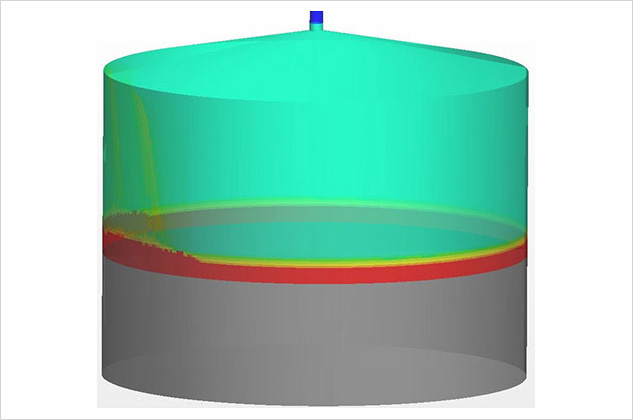 High Cycle Thermal Fatigue at T-junction
HARview®
Applicable flexibly to diverse configurations of process components, process fluids, and analytical requirements. The technology provides the data necessary for designing optimal systems or equipment configurations.
Ensures that the simulation results are evaluated properly and are adopted in actual process designs, based on the verified results through a wide variety of fluid flow experiments and wide experience in the design and performance analysis of existing process equipment.
Enables stable and efficient operation of existing plants (Plant Diagnosis and Lifetime Improvement Service "PLANT PLUS")
A wide variety of applications, such as reactors, heat exchangers, furnaces, mixing vessels, cyclone separators, pipelines, and ventilation units.
Analytical capabilities:

Fluid flow, heat transfer
Multi-phase, multi-component mixing
Chemical reaction, combustion, radiation
Lots of experience in the field of petroleum refining, petrochemicals & chemicals, nuclear energy, non-ferrous metal refining, pharmaceutical & R&D facilities, manufacturing plants, etc.
Plant Diagnosis and Lifetime Improvement Service "PLANT PLUS℠"
Energy Transition - O&M/Other Services