Message from CFO
1. Current situation and duties as CFO
In an uncertain market environment that includes factors such as the drop in crude oil prices and the coronavirus pandemic (Covid-19), the Group is currently tasked with two challenges: meeting fiscal 2020 order targets and results forecasts while establishing a long-term 2040 vision for sustained growth as a corporate group.
As CFO, I intend to support our efforts in the face of these two challenges through financial measures.
2. Maintaining sound finances
To secure and execute large-scale projects in overseas oil and gas engineering operations, our goal is to sustain robust finances largely unaffected by short-term market trends, and to keep flexible our funding capacity for large-scale investment. We aim to maintain a stable equity ratio of 50% or higher. As of the end of fiscal 2019, the equity ratio stood at 58%. Despite sluggishness in the plant market from 2015 to 2017, our discipline in financial operations over this time has placed us on a solid financial footing.Early 2020 saw crude oil prices plummet after OPEC+ failed to agree on production cuts, and Covid-19 has resulted in reduced energy demand. This has made market forecasts difficult for total engineering as well as for functional materials manufacturing. For the Group to prevail in this severe environment, we recognize that sound finances are more important than ever.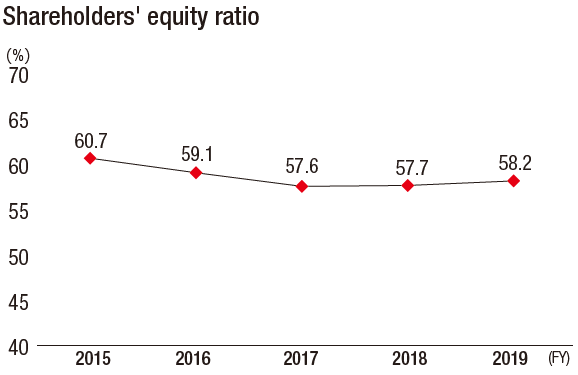 3. Liquidity in hand and stance on allocation
Liquidity in hand has improved significantly. Now that replacement cost no longer applies in the Ichthys LNG Project and capital recovery is in progress from projects in Algeria, net operating cash flow has increased. We have also obtained revenue from the sale of business investment assets after cross-holdings sales and a review of cross-shareholding. Current cash and cash equivalents as of the end of fiscal 2019 stood at ¥261.8 billion, a year-on-year increase of roughly ¥100 billion.
Financial needs for the Group include ample working capital for steady execution of total engineering projects, investment in AI/IoT in order to keep effective business operations, capital investment in functional materials manufacturing, and growth strategy investment in order to explore and commercialize potential new pillars of business. To meet such financial needs, it is our policy to consider cash in hand, among other options.
4. Toward greater capital efficiency
The Group has a target ROE of 10% or higher, accounting for cost of equity. Although ROE improved to 4.3% in fiscal 2017 and 6.0% in fiscal 2018 in part from our success in reinforcing project risk management after recording a net loss in fiscal 2016, ROE subsequently declined to 1.0% in fiscal 2019. The reasons are that corporate tax rose on higher foreign taxes, among other factors, and risk to current projects posed by Covid-19 was partially reflected in construction profitability, leading to lower net income attributable to owners of the parent.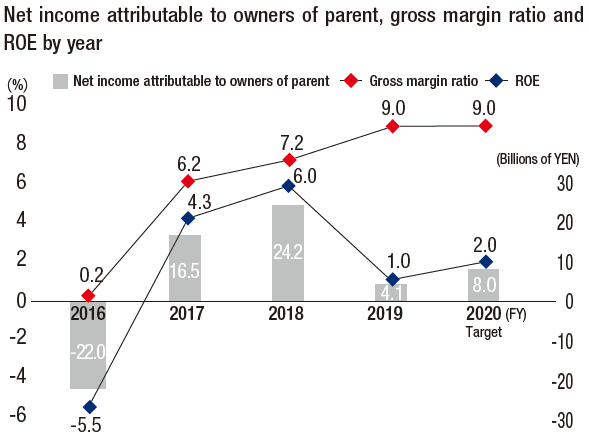 In order to improve ROE, it is required that the Group continue its thorough project risk management and that it cut costs to ensure profit from current and future projects. Also important is to continue generating and expanding stable and reliable revenue from functional materials manufacturing and total engineering consisting of three businesses that include overseas infrastructure and domestic EPC, instead of relying solely on overseas oil and gas which as a business is affected by fluctuations in the resource market. Moreover, the long-term 2040 vision under development will map a course for sustained growth by addressing a broader range of social issues including resources, the environment, society, and health, which promises to hold a greater potential for generating profit. As CFO, I am committed to timely and accurate allocation of resources for growth investment, based on suitable evaluation of risks and returns from investment projects, in order to improve capital efficiency through expanded profit.
The Group positions shareholder return for investors as a key management issue and the basis of cash dividends. Our dividend payout ratio target is 30% of net income attributable to owners of the parent. Although this net income for fiscal 2019 was below the forecast announced at the beginning of the fiscal year, in consideration of liquidity in hand and other factors we maintained the same cash dividend as announced, ¥12 per share. We anticipate the same amount of ¥12 per share in fiscal 2020.
Recognizing that share buy-back is a form of shareholder return, we will consider this based on an overall assessment of market environments, the outlook for business performance, cash in hand, stock price developments, financial needs such as growth strategy investment, and other considerations. We appreciate the understanding and support of all stakeholders.