LNG Plant
Client
Woodside Offshore Petroleum Pty Ltd (Train 1, 2)
Woodside Offshore Petroleum Pty Ltd (Train 3)
Woodside Energy Ltd. (Train 4)
Location
Dampier/Australia
Completion
1989 (Train 1,2)
1993 (Train 3)
2004 (Train 4)
Scope
EPC
Capacity
2,000,000 T/Y x 2 (Train 1,2)
2,000,000 T/Y (Train 3)
4,200,000 T/Y (Train 4)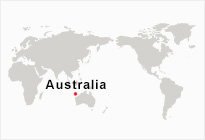 This plant is divided into a total of four LNG trains, and JGC has so far been placed in charge of projects to construct all trains.
There was fierce bidding from engineering companies from all over world to land the contract for constructing trains 1 to 3, with the capacity to produce 2 million tons per year. However, a joint venture formed by JGC, Kellogg of the U.S., and Raymond Engineer of Australia, succeeded in landing and executing the contract thanks to the high appraisal the companies won for the wealth of knowledge and past achievements in the LNG field. At the time JGC landed the contract in 1982, the project was one of the biggest undertaken by a Japanese engineering company in the history of LNG plant construction.
Moreover, the construction of Train 4, with the capacity to produce 4.2 million tons of LNG per year, was undertaken by a joint venture formed by JGC, KBR of the U.S., and an Australian engineering company.
A part of the LNG produced at this plant is exported to Japan, which made it a vital project from the perspective of securing a stable supply of energy for Japan. The successful construction of this plant firmly established JGC's reputation as one of the few engineering companies in the world capable of executing large-scale LNG projects.
Search Projects
Business Areas (Total Engineering Business)
Energy Transition
Healthcare/Life Science
Industrial/Urban Infrastructure