Signing of Memorandum of Understanding regarding GHG emissions measurement at Ammonia Production Plant in Indonesia
News Releases 2022
Sep. 26, 2022
Signing of Memorandum of Understanding regarding GHG emissions measurement at Ammonia Production Plant in Indonesia
Contributing to the supply of clean fuel ammonia to Japan
JGC Holdings Corporation (Representative Director, Chairman and CEO: Masayuki Sato) announces that JGC Corporation (Representative Director & President: Farhan Mujib), and PT Panca Amara Utama (PAU)※1 , which is an Indonesian ammonia production and sales company and Mitsubishi Corporation (MC) and others have invested, have signed an agreement to measure greenhouse gas (GHG) emissions, including methane at PAU's ammonia production site in Central Sulawesi, Indonesia.
Background and Objectives
In order to contribute to smooth energy transition, JGC Corporation and Japan Oil, Gas and Metals National Corporation (JOGMEC) developed "GHG and CI Guidelines" (hereinafter referred to as "Guidelines") for the calculation of greenhouse gases from LNG, hydrogen, and ammonia production, through its project "Survey for constructing a global MRV※2/CI※3 methodology for GHG emission" (hereinafter referred to as "JOGMEC Project").

This Guidelines are recommendation for global partners who supply transition energy to Japan, and to enable the simple calculation of GHG and CI according to the actual operation mode seeking accuracy. JGC Corporation has been selected the JOGMEC Project again this year and has been studying the aplication of this guideline to actual plants.

JGC Corporation will measure GHG emissions at PAU's ammonia production sites from November to December 2022 based on the MOU signed this time, by using infrared cameras, drones, satellites, etc., and will also calculate GHG emissions per ton of ammonia to calculate CI values for ammonia products This measurement will be the first case of applying these Guidelines as part of a JOGMEC project. In addition to that, this measurement will be utilized for improving the accuracy of this Guidelines.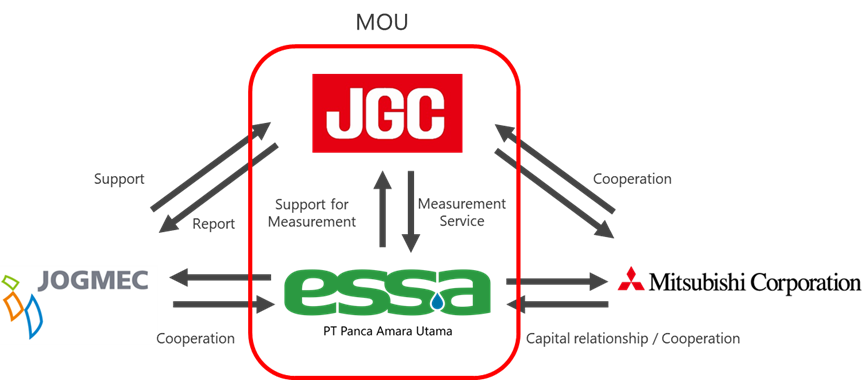 ※From March 2021, PAU will use the "essa" logo as a common brand identity with its parent company.
Current situation surrounding methane emissions
To achieve carbon neutral by 2050, transition energies (e.g. LNG, hydrogen and ammonia) must be utilized with cleanness and transparency. For that, accurate measurement and then reduce of GHG emissions from the production and transportation of the transition energies is important.
Methane is one of the most common GHGs emitted during the production of LNG, hydrogen, and ammonia from natural gas, and has a global warming potential※4 28-84 times greater than CO2. Because of its significant impact, the Global Methane Pledge, an initiative led by the United States and the European Union, was launched at COP26 (the 26th Conference of the Parties to the United Nations Framework Convention on Climate Change), and discussions have begun on reducing methane emissions. In Japan, the "Japan-U.S. Climate Partnership Fact Sheet," a joint statement issued at the Japan-U.S. Summit in May 2022, outlines a policy of joint cooperation between the United States and Japan on methane-related emission reductions.
On the other hand, methane emissions vary widely from facility to facility, and there are concerns about the accuracy of calculations using general emission factors, and there is no globally standardized measurement method.
The JGC Group will contribute to clean ammonia supply to Japan by utilizing the JGC Group's superior quantification technologies for GHG emissions and plant engineering technologies. In addition to that, the JGC Group will continue to contribute to a smooth energy transition by achieving facilities with low GHG emissions.
※1:Summary of PAU
Location
DBS Bank Tower 18th Floor, Jl. Prof. Dr. Satrio Kav. 3-5 Jakarta 12940, INDONESIA
Business Description
Ammonia production and sales in Luwuk, Central Sulawesi, Indonesia
Representative
President Director & Chief Executive Officer : Vinod Laroya
Establishment
21st June 2004
Remarks

Mitsubishi Gas Chemical Company, Inc. and Mitsubishi Corporation together are an indirect shareholder of PAU through an investment purpose company.

PAU is responsible for a plant that produces 700,000 tons/year of ammonia, which is made mainly from natural gas supplied by a local development project that MC also invests in.

PAU, together with JOGMEC, Mitsubishi Corporation, and Bandung Institute of Technology (Bandung), are conducting a joint study for the production of clean fuel ammonia using PAU's ammonia production site.
※2:Measurement Reporting Verification of greenhouse gas emissions.
※3:Carbon intensity: CI is calculated by dividing CO2 emissions calculated by the MRV method by energy consumption.
※4:Global Warning Potential: The impact of global warning. the value of methane is about 28 times over 100 years and about 84 times over 20 years.