JGC Awarded Contract for Infrastructure Construction in Bangladesh Special Economic Zone
News Releases 2022
Mar. 24, 2022
JGC Awarded Contract for Infrastructure Construction in Bangladesh Special Economic Zone
JGC Holdings Corporation Representative Director, Chairman and Chief Executive Officer: Masayuki Sato) announces that JGC Corporation (President and Chief Executive Officer: Farhan Mujib) have been awarded a contract to provide construction services for the infrastructure of an industrial park to be developed in the Narayanganj District, Dhaka Division, Bangladesh by a joint venture composed of Sumitomo Corporation and the Bangladesh Special Economic Zones Authority, named Bangladesh SEZ Ltd. The delivery date will be End of 2022. The details of the project are as follows:

This Bangladesh Special Economic Zone is the first large-scale economic zone in the People's Republic of Bangladesh with an international standard infrastructure. As a special economic zone, it has attracted attention not only from local companies, but also from Japanese and overseas companies that are considering expanding into the country. The year 2022 also marks the 50th anniversary of the establishment of Japan-Bangladesh diplomatic relations. In this special economic zone, the Japanese government has been promoting the Foreign Direct Investment Promotion Project and various infrastructure development projects are underway using yen loans as the main source of funds.

The project awarded to JGC Corporation this time is a project for the construction of a new industrial complex in a special economic zone to be developed by a joint venture led by Sumitomo Corporation. The project, aimed at improving the quality of life in the area, includes construction work on 80 hectares of land in the area, including lots, roads, power distribution, water and sewage systems, and rainwater drainage canals. This project is the first in Bangladesh for the JGC Group, and we aim to use it as a foothold to expand orders for infrastructure projects in Bangladesh in the future.

In our long-term management plan called our "2040 Vision" we aim to expand our business domain into the "industrial and urban infrastructure" field as one of our future businesses. In the Southeast and South Asia regions, where the demand for industrial and urban infrastructure will continue to grow as the population increases, we will be able to provide high quality services to meet the needs of our clients through the utilization of our engineering-based proposal and project execution capabilities to develop infrastructure such as electricity, water, and other utilities. In addition to the construction and expansion of new factories for companies entering the market, we are also able to provide support for the introduction of renewable energy that contributes to the carbon neutral of factories and facilities with the aim of supporting our customers' efforts to increase their business value.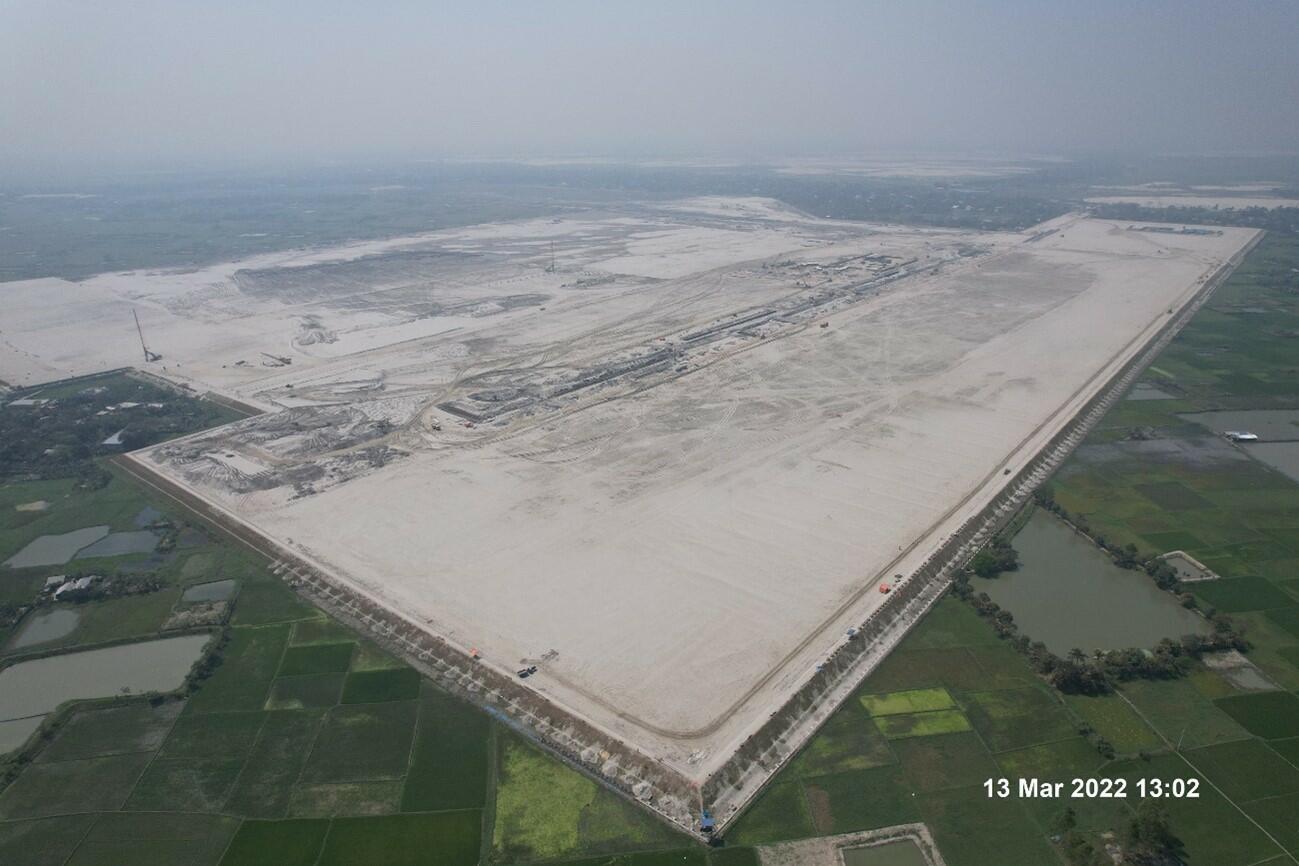 Aerial view of the construction site