Launch of Prototype Version of 3D Viewer "INTEGNANCE VR" from INTEGNANCE (JGC Smart Maintenance brand)
News Releases 2021
Oct. 05, 2021
Launch of Prototype Version of 3D Viewer "INTEGNANCE VR" from INTEGNANCE (JGC Smart Maintenance brand)
Enhancing facility maintenance through digital twinning
JGC Holdings Corporation (Representative Director, Chairman and Chief Executive Officer: Masayuki Sato) is pleased to announce that JGC Japan Corporation (Representative Director, President: Shoji Yamada, hereinafter referred to as "JGC Japan") will begin offering a prototype version of the 3D viewer "INTEGNANCE VR" (hereinafter "the Viewer") as part of its INTEGNANCE brand of smart maintenance services for domestic refineries and petrochemical/chemical plants.

By annotating (registering tags with related data) on the 360° panoramic photo of the entire existing plant, the Viewer visualizes the correlation between each item of equipment and component, creating a so-called "street view of the plant "*1.
Since all information in the plant can be accessed visually and quickly, it enables practitioners who maintain vast sites to greatly improve the efficiency of their operation and maintenance work.


Image of "INTEGNANCE VR" screen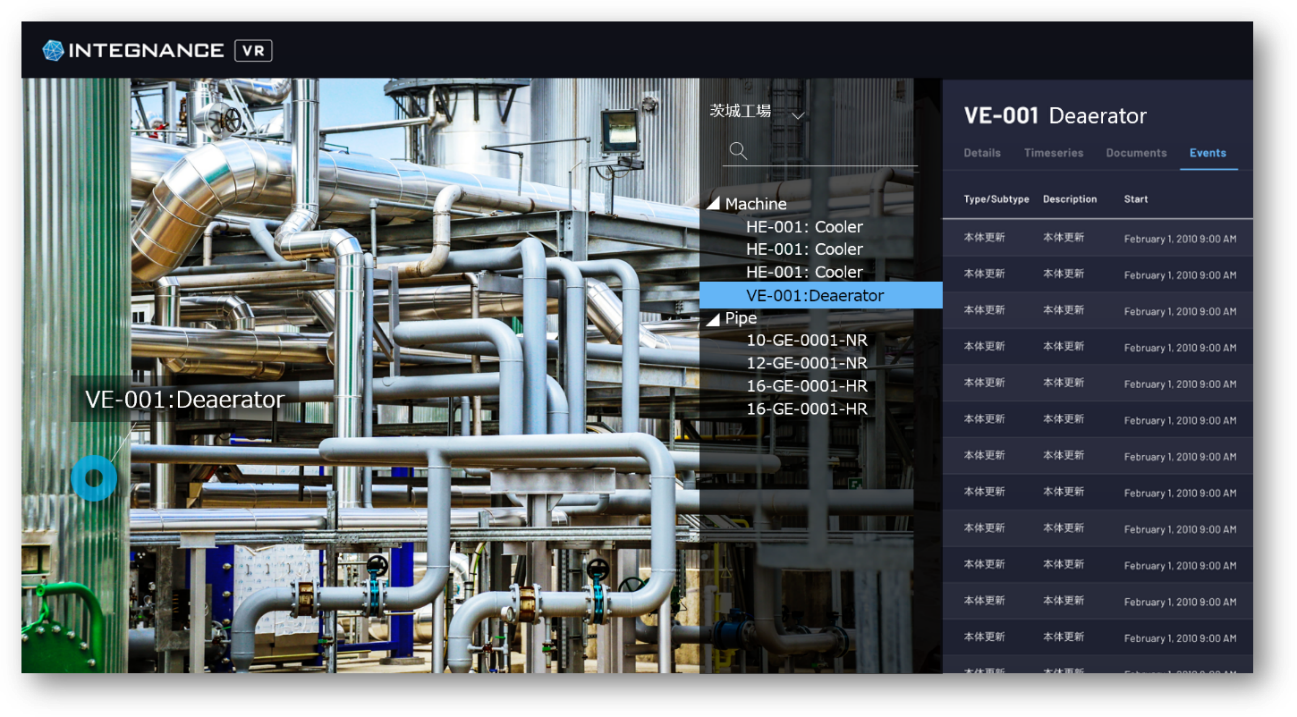 The Viewer can recognize each facility of a plant with 3D information, combined with 360° panoramic photographs and 3D shape models (3D models generated from 3D scans), enabling the survey of current conditions on a PC in the office. In addition, a major feature of this system is that semantic segmentation (an AI technology that divides the image area) enables automatic extraction of pipes, which are said to number hundreds of thousands in a plant, and simplifies "spatial data construction work," which has been a major barrier to the introduction of digital twins*2.

A prototype version of the Viewer will be provided from November 1, 2021, free of charge to customers who have cooperated in the demonstration experiment so far, and will be improved based on the feedback with the plan of realizing full-scale commercialization in fiscal year 2022. JGC Japan will also provide support for the preliminary set-up work required for the introduction of the Viewer (from taking 360° panoramic photographs of the existing plant to laser measurement of the actual space).


The Viewer applies the most advanced 3D technology, one of the strengths of Arent Inc., an innovation firm engaged in everything from DX consulting to development, and realizes the fusion of the physical world and digital space by superimposing multiple spatial expression methods such as 3D CAD, AR*3 and MR*4 on VR*5. By utilizing these cutting-edge technologies, JGC Japan is aiming to establish a new maintenance style based on the intuitive and overwhelmingly convenient digital twin. In the future, we will build a maintenance platform that enables total optimization across multiple business sites by establishing a system that crosses the operations of each department, such as the facility management, manufacturing, and safety departments, within a plant business site, using INTEGNANCE VR as a launching point. We will contribute to the resolution of plant maintenance issues in Japan and overseas.


We are planning to make a presentation on the concept of displaying life cycle assessment (LCA) on INTEGNANCE VR at the JGC Group's exhibition booth at the 34th INCHEM Tokyo 2021 Plant Show, which will be held at Tokyo Big Sight from November 17, 2021. In addition to improving operational efficiency, we are also working to improve our business efficiency as we intend to support "environmentally friendly management," which is becoming increasingly important from the perspective of business continuity planning.
*

1: Street View is a registered trademark of Google LLC.

*

2: Technology that converts places, people, things, and objects that exist in physical space into digital data, and builds a digital twin (twin digital data of the real world) in cyberspace, enabling analysis and prediction.

*

3: Augmented Reality

*

4: Mixed Reality

*

5: Virtual Reality





<For Reference>