Online Ceremony Held to Conclude a Cooperation Agreement on the Conceptual Study of a Lunar ISRU Plant
News Releases 2021
Jun. 28, 2021
Online Ceremony Held to Conclude a Cooperation Agreement on the Conceptual Study of a Lunar ISRU Plant
-Toward the realization of an energy infrastructure on the Moon-
Yokohama, Japan-JGC Holdings Corporation (Representative Director, Chairman and Chief Executive Officer: Masayuki Sato) announces that JGC Corporation (President and CEO: Yutaka Yamazaki; hereinafter "JGC") and the Japan Aerospace Exploration Agency (hereinafter "JAXA") held an online ceremony on June 21, 2021, for the signing of a cooperation agreement to study the concept of a Lunar ISRU Plant*.


Under this cooperation agreement with JAXA, JGC will conduct a conceptual study of a lunar ISRU plant using lunar water-ice resources over a period of about one year, and will identify the technological elements and research issues necessary for its realization, and study the R&D plan. JGC has been involved in the feasibility study, engineering, procurement, and construction of various energy-related plants, including oil, natural gas, and renewable energy, and will utilize this knowledge in the conduct of this study.

The ceremony was attended by Junichi Sakai, Director of the Human Spaceflight Technology Center from JAXA, and Fumio Sakamoto, Executive Officer and Vice President of the Engineering Solutions Center from JGC.

At the ceremony, Vice President Fumio Sakamoto made the following comments.
"For more than 90 years since its founding, the JGC Group has been involved in the engineering and construction of plants and facilities in a wide range of fields, from energy-related fields to social and industrial infrastructure. We have completed more than 20,000 projects in a variety of environments, including deserts, jungles, the far north, and offshore. From the 1980s to the early 2000s, we were also involved in space-related businesses, such as the provision of microgravity environment utilization services and safety and quality assurance analysis using the International Space Station. We are very honored to have been given the opportunity to participate in the study of a lunar ISRU plant concept, which will be a great challenge not only for our group but also for humanity, and we are very excited to be involved in this remarkable innovation. Since2018, through the activities of volunteer members within the company, JGC has long been considering participation in space-related business by volunteer members within the company, and in December 2020, the "Lunar Plant Unit" was officially established. Under this agreements, the "Lunar plant unit" will contribute to the realization of a lunar ISRU plant by utilizing the knowledge and technological capabilities that the JGC Group has accumulated over the years.

* Lunar ISRU (in situ resource utilization) Plant: A facility that extracts water-ice from lunar soil (regolith) to produce liquid hydrogen and liquid oxygen, which can be used as propellant for lunar landers and spacecrafts.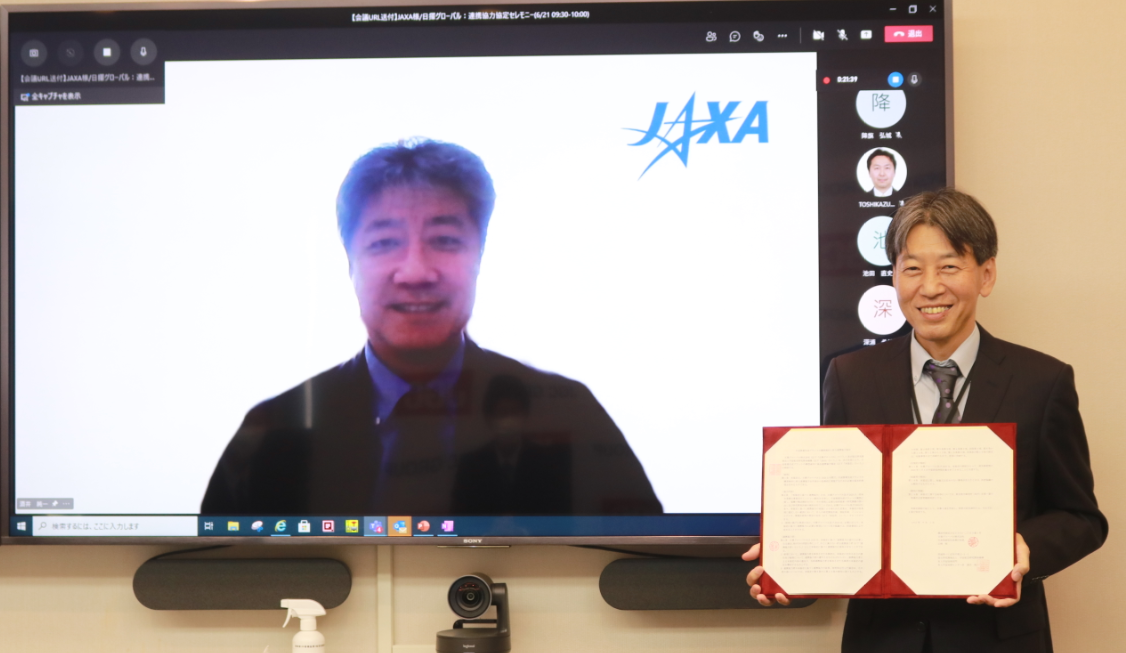 (Left: Junichi Sakai, Director of the Human Spaceflight Technology Center from JAXA,
Right: Fumio Sakamoto, Executive Officer and Vice President of the Engineering Solutions Center from JGC)


Click here for the link to JAXA website
URL: https://humans-in-space.jaxa.jp/biz-lab/news/detail/001513.html