New Group Management Structure Established
News Releases 2019
Oct. 01, 2019
New Group Management Structure Established
Toward Greater Corporate Value, with Revenue from Multiple Segments
Yokohama, Japan - As of today (October 1, 2019), the JGC Group has adopted a new group management structure, in the form of a holding company structure. Accordingly, roles formerly served by JGC Corporation in establishing group strategies and coordinating the activities of operating companies are now served by the holding company, JGC Holdings Corporation. Also after October 1, JGC Holdings Corporation will remain listed on the Tokyo Stock Exchange.


Engineering, procurement, and construction (EPC) in overseas oil and gas and overseas infrastructure segments that was formerly conducted by JGC Corporation is now conducted by the new JGC Corporation (retaining the same name in English, but consisting of two companies for oil and gas projects and infrastructure projects). Domestic EPC operations are now managed by the new JGC Japan Corporation, formed through a merger with wholly owned subsidiary JGC Plant Innovation Co., Ltd.


Adopting the group management structure has created a multi-business corporate group that includes the overseas oil and gas, overseas infrastructure, and domestic EPC operations mentioned above as well as manufacturing of functional materials (catalysts, fine chemicals, and fine ceramics) by JGC Catalysts and Chemicals and Japan Fine Ceramics, which is positioned as a core group business, and energy and environmental consulting services by Japan NUS.


Revenue from this multi-business portfolio will support steady and prompt attainment of the group vision described in the five-year Beyond the Horizon medium-term business plan enacted in fiscal 2016, toward the goal of sustained gains in corporate value. At the same time, the reform will be instrumental in becoming a corporate group that fulfills essential roles in solving the increasingly complex and sophisticated challenges faced by society and clients.


<New Group Management Structure>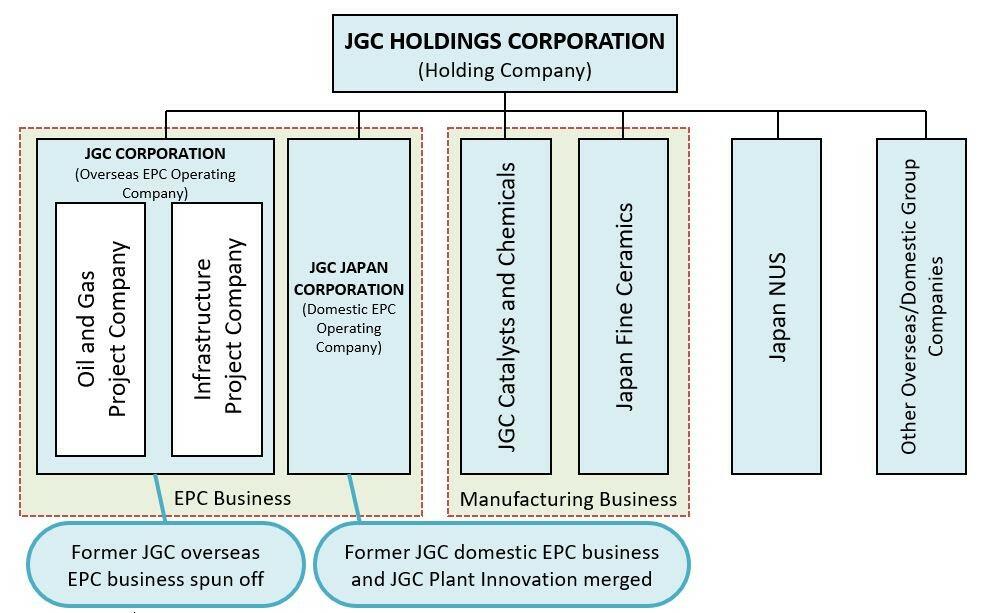 <Outline of JGC HOLDINGS CORPORATION>

(1) Company name

JGC HOLDINGS CORPORATION

(Company name has been changed from the former JGC CORPORATION as of October 1, 2019)

(2) Address

2-3-1 Minatomirai, Nishi Ward, Yokohama, Kanagawa Prefecture

(3) Position and name of representative

Masayuki Sato, Chairman and Chief Executive Officer (CEO)

Tadashi Ishizuka, President and Chief Operating Officer (COO)

(4) Description of business
Proposal of Group strategy, supervision, management, etc. of operating companies
(5) Capital
23,554 million yen
<Outline of Major Operating Companies>

(1) Company name

JGC CORPORATION

(A different entity from the former JGC CORPORATION, which has been succeeded by JGC HOLDINGS CORPORATION as of October 1, 2019)
(2) Address

2-3-1 Minatomirai, Nishi Ward, Yokohama, Kanagawa Prefecture

(3) Position and name of representative

Tetsuya Muramoto, Representative Director and President

(4) Description of business
EPC business for various plants and facilities overseas
(5) Capital
1,000 million yen
(1) Company name

JGC JAPAN CORPORATION

(Company name has been changed from JGC Plant Innovation Co., Ltd. as of October 1, 2019)

(2) Address

2-3-1 Minatomirai, Nishi Ward, Yokohama, Kanagawa Prefecture

(3) Position and name of representative

Shoji Yamada, Representative Director and President

(4) Description of business
EPC business and maintenance business for various plants and facilities in Japan
(5) Capital
1,000 million yen
| | |
| --- | --- |
| (1) Company name | JGC Catalysts and Chemicals Ltd. |
| (2) Address | Solid Square East Tower, 580 Horikawa-cho, Saiwai-ku, Kawasaki, Kanagawa Prefecture |
| (3) Position and name of representative | Toshiharu Hirai, Representative Director and President |
| (4) Description of business | Production and sales of catalysts for use in oil refining and chemical production, environmental catalysts, fine chemicals, etc. |
| (5) Capital | 1,800 million yen |
| | |
| --- | --- |
| (1) Company name | JAPAN FINE CERAMICS CO., LTD. |
| (2) Address | 3-10, Akedori, Izumi-ku, Sendai, Miyagi Prefecture |
| (3) Position and name of representative | Shigeru Adachi, Representative Director and President |
| (4) Description of business | Production and sales of fine ceramics, electronic parts, etc. |
| (5) Capital | 300 million yen |
| | |
| --- | --- |
| (1) Company name | JAPAN NUS Co., Ltd. |
| (2) Address | Nishi-Shinjuku Prime Square, 7-5-25 Nishi-Shinjuku, Shinjuku-ku, Tokyo |
| (3) Position and name of representative | Yukio Kishimoto, Representative Director and President |
| (4) Description of business | Energy and Environmental Consulting |
| (5) Capital | 50 million yen |