JGC Formulates "IT Grand Plan 2030"
News Releases 2018
Dec. 18, 2018
JGC Formulates "IT Grand Plan 2030"
New IT Strategy of the JGC Group
Yokohama, Japan - JGC Corporation announced today that, in the light of the recent rapid advances in AI/IoT, it has formulated a new IT strategy for the Group, "IT Grand Plan 2030."
1. Aims of the "IT Grand Plan 2030"
Since the 1970s, JGC has led the way in the application of IT to develop each phase of EPC (Engineering, Procurement, Construction) as well as overall project management by establishing design technology and PMS (Plant Management Systems) through the utilization of computers.
At this moment, JGC is fully aware that progress in the digitalization of AI and IoT presents us with the possiblity to revolutionize the project implementation and project management methods. This, together with the expected progress in the smartification of manufacturing plants, has prompted the JGC Group to formulate a strategy that will enable it to keep abreast of the expected developments in this field.
As a step in this process, JGC established the Data Intelligence Division within the company in April of this year with 2030 set as the target of formulating its new IT strategy. With the future vision of the inclusion of the application of the latest IT advances to manufacturing as a further element in addition to its main EPC business, the JGC Group has created a road-map in the form of its "IT Grand Plan 2030."
Henceforth, with this plan as its guide, the company will proactively engage in the application of digitalized AI/IoT to its business activities.
Details of these points are presented below.
2. Image of how the digital technology will be applied to EPC technology in 2030
Through the application of digital technology such as AI/IoT, we are aiming to improve productivity in each phase of EPC project execution and reform project management by utilizing future prediction technology as well.
Shown below is an image of how we intend to incorporate these advances in each phase of project execution and project management.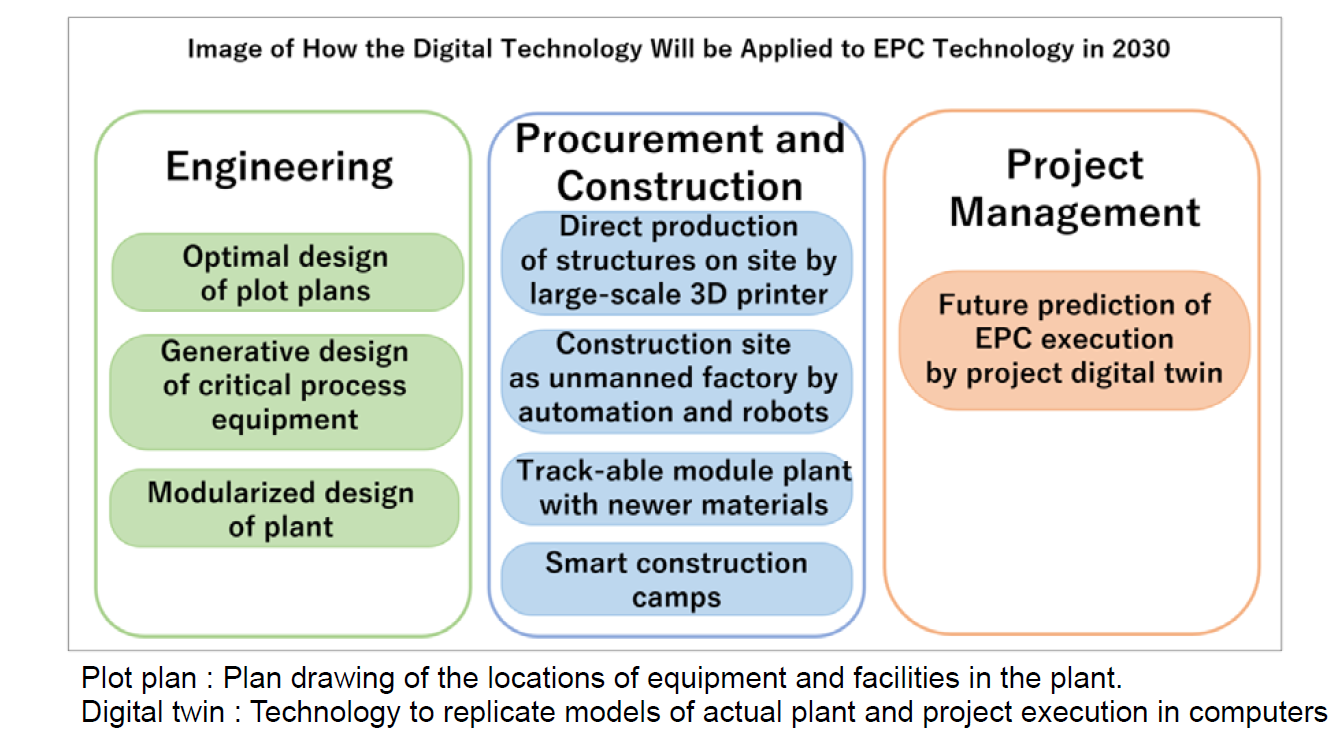 3. Project execution and project management resulting from innovation
Through the innovations in project execution and project management using digital technologies such as AI/IoT, we would like to bring about the results outlined below to our client (the plant owner) and ourselves.

4. Roadmap for realization together with the monitoring system
As JGC moves toward realization of its "IT Grand Plan 2030," the company plans to move steadily through the early, mid, and late stages of this roadmap. JGC is going to develop a new mid-term IT strategy over the next 3 years which will be monitored and assessed by the steering committee chaired by the senior executives.