Investment in FPSO Owning and Chartering Business for Oil and Gas Field, Off-Shore Ghana
News Releases 2017
Nov. 22, 2017
Investment in FPSO Owning and Chartering Business for Oil and Gas Field, Off-Shore Ghana
Yokohama, Japan - JGC Corporation (Head Office: Yokohama, Kanagawa Prefecture; Chairman & CEO: Masayuki Sato; hereinafter the "JGC") has announced today that four companies (hereinafter the "four partners"), namely JGC Corporation, Sumitomo Corporation (Head Office: Chuo-ku, Tokyo: President & CEO: Kuniharu Nakamura), Kawasaki Kisen Kaisha, Ltd. (Head Office: Chiyoda-ku, Tokyo; President & CEO: Eizo Murakami) and Development Bank of Japan Inc. (Head Office: Chiyoda-ku, Tokyo; President & CEO: Masanori Yanagi) have concluded a contract with the Malaysian offshore production services provider Yinson Holdings Berhad (hereinafter Yinson) for the purchase of a part of the shares in Yinson's wholly owned subsidiary company, Yinson Production (West Africa) Pte. Ltd. (hereinafter "YP(WA)PL") which participates in the ownership, and the chartering business for FPSO (*1) in an area off the coast of Ghana (hereinafter "the contract")
The contract has been concluded in accordance with the Basic Equity Participation Agreement reached between the four partners and Yinson in June of this year. When the contract takes effect after fulfillment of the conditions, the four partners will acquire 26 % of the shares of YP(WA)PL through a joint venture company formed by the four partners. In its participation in the project, JGC will apply its extensive experience in EPC (Engineering, Procurement and Construction) in the oil and gas field to provide technical support for the top-side facilities mainly.
YP(WA)PL has concluded a 15-year long-term FPSO chartering agreement with Eni Ghana Exploration and Production Ltd. which is an affiliate of the major Italian oil company, Eni SPA and started oil production at the Offshore Cape Three Point Block ("OCTP"), located approximately 60 kilometers off the south-west coast of Ghana, in May, 2017. This FPSO operation is expected to begin the supply of natural gas for domestic consumption in Ghana by mid-2018.
In its 5-year medium-term business plan "Beyond the Horizon" announced in 2016, JGC expressed its intention to strengthen its presence in the offshore field and is already the leader in the field of EPC for FLNG (*2). Moreover, JGC intends to utilize knowledge and expertise that can be obtained through its first involvement in the FPSO owning and chartering business and realize synergy with EPC and O&M services as well to strengthen and broaden these businesses in the offshore field.
(*1) Abbreviation for Floating Production Storage and Offloading. Facilities for offshore crude oil and gas production, the storage in a tank of what is produced and its direct offloading onto tankers.
(*2) Abbreviation for Floating Liquefied Natural Gas. Facilities for the offshore production of LNG, its storage in a tank and its transfer to LNG tankers.
Name of FPSO
John Agyekum Kufuor
Crude oil production capacity
58,000 barrels/day
Gas production capacity
210 million square feet/day
Crude oil storage capacity
1.4 million barrels
Mooring system
Spread mooring (about 500 to 1,000 meters below the surface)
*Multi-point mooring system to hold a vessel in position using multiple mooring lines
Shareholding ratio
Yinson Group: 74 %, four partners: 26 %
Chartering period
15 years from June 2017
Outline of Yinson Holdings Berhad
Established in 1983 as a local transport and logistics company in Malaysia, which was divested from Yinson Group entirely in 2016. Yinson is currently a full-fledge company in the oil and gas industry and major player in the FPSO industry and is listed on the Main Market of the Malaysian stock exchange, Bursa Malaysia Securities Berhad. Yinson's current fleet consist of five FPSOs and one floating, storage and offloading ("FSO") unit as of June 2017.
Head office location: KL Eco City, 59200 Kuala Lumpur, Malaysia
Business: Marine services including offshore production services in support of global oil field developments
[Map of production area]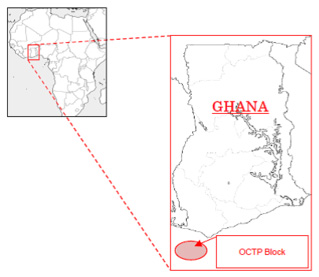 [FPSO photo]