Technologies (Gas/Oil/Chemicals)

JGC Coal Fuel (JCF®) Process
JGC Coal Fuel (JCF®) Process
JCF® Process is a unique process for producing slurry fuel from low rank coals, which overcomes coal's handling disadvantage as a solid and enables easier handling, like fuel oil, with convenience in storage, transportation and combustion. Slurry fuel produced by JCF® Process is a mixture of powdered coal and water with a small amount of additive, which maintains a stable state over a long period.
JCF® Process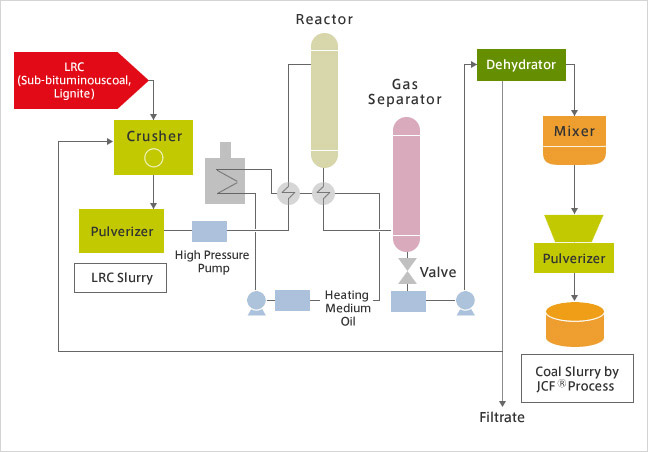 Transportable by tanker or pipeline
Smaller area for a coal storage yard
Permits spray combustion, like fuel oil, and a good load response to boiler load operability
Not spontaneously combustible; not flammable
Feed: Low-rank coals, such as lignite and sub-bituminous coal
Uses: Boiler fuel as a coal or fuel oil substitute, diesel engine fuel
Verification tests of JCF production and power generation in a 750 kg/h (as dry coal) demonstration plant in Indonesia were completed.
Operation verified in a 350 kg/hr (as dry coal) upgrading and slurrying pilot plant in Japan and a 2.5 t/hr combustion test in China were completed.
Technologies (Gas/Oil/Chemicals)